Yesterday, I wrote about the U S Chamber's hypocritical attack on TV ads. What I didn't cover was a closer look at what was underlying the press release which went out to all of their conservative outlets. The numbers show that the US Chamber of Commerce study tracked spending on ads and actually shows that the spending has remained almost unchanged since 2006. There was a jump earlier in the decade. But get this, the number of spots have actually dropped since 2006.
So google these stories and you will find the implications that :
Oh my god lawyers are adding to the claims
Look lawyers know the gravy train is ending and are going all out
Look see this is the problem.
It's kind of funny how many of the "comments" actually say the exact same thing. But, the underlying support just isn't there. Yes, the study says the numbers are going down. So when do we hear that apology or maybe the turning of their growth theories on their head? Are the lower numbers actual proof that there is no problem?
The American Association for Justice, also pointed out that no matter the ad numbers the the National Center for State Courts shows an 8 percent decrease from 1997 to 2006 in states' civil caseload related to medical malpractice. "As usual, the Chamber is willing to bargain away injured patients' legal rights to protect the profits of their insurance and drug company financiers," Ray De Lorenzi, a spokesman for the association, said in a statement.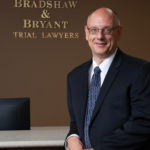 A founding partner with Bradshaw & Bryant, Mike Bryant has always fought to find justice for his clients—knowing that legal troubles, both personal injury and criminal, can be devastating for a family. Voted a Top 40 Personal Injury "Super Lawyer"  multiple years, Mr. Bryant has also been voted one of the Top 100 Minnesota  "Super Lawyers" four times.