Interesting series in the Huffington Post last week, which looked into the issue of what happens to women who make certain kinds of medical claims. Spotlighted were the cases of women who, after being raped, needed to go through courses of HIV protection measures or who needed post-traumatic care.
Imagine even having to consider whether to report the brutality of being raped because you might later be denied for a preexisting condition. This is just an almost unthinkable deterrent.
It is the quandary that so many insurance companies profit from. The reason for the ongoing fairy tail that there is a litigation explosion out there. They profit from getting as many people as possible to buy more and more coverage. You never know when you will be sued, get sick, suffer a loss. Alternatively, they scare the heck out of people from ever using their coverage. Rates will go up, I will be denied, and I won't be able to get future care.
Just another reason why the health care debate needs to be about the consumer. That real issues , involving real people have to be at the center of any debate. This is not a time for profits over people. It is also most likely the reason why, just like in auto claims, the insurance companies have gone to the old Delay, Deny, and Defend policy.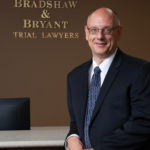 A founding partner with Bradshaw & Bryant, Mike Bryant has always fought to find justice for his clients—knowing that legal troubles, both personal injury and criminal, can be devastating for a family. Voted a Top 40 Personal Injury "Super Lawyer"  multiple years, Mr. Bryant has also been voted one of the Top 100 Minnesota  "Super Lawyers" four times.