The first week of July in Harris County, Texas, a man who lost his leg from mid-thigh down, part of his right foot and all of his fingers received a verdict of $10 million. The man was injured after an allergic reaction to Heprin. Under the present law in Texas, he would have really received $250,000. The product of tort reform caps that Steve Lombardi has covered extensively here at the Injuryboard. But, because he was "lucky" enough to be horrible manipulated before the law was imposed he was able to receive a little justice.
Look at this case and do you see a frivolous claim? Was the law really meant to stop this sort of case from getting to court? Absolutely not. It was championed with talk of stopping frivolous claims and stopping scummy lawyers. And instead it created a haven for bad doctors, protects bad medicine and most of all saves Insurance companies money.
This case will hopefully open some eyes, or at the very least provide evidence for why other states shouldn't steal the rights of the consumer. Justice needs to be available for everyone. Congratulations, that at least there was still a place for someone to be protected in Texas.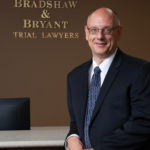 A founding partner with Bradshaw & Bryant, Mike Bryant has always fought to find justice for his clients—knowing that legal troubles, both personal injury and criminal, can be devastating for a family. Voted a Top 40 Personal Injury "Super Lawyer"  multiple years, Mr. Bryant has also been voted one of the Top 100 Minnesota  "Super Lawyers" four times.