The New England Journal of Medicine released a study on the rates and payments of medical malpractice claims submitted by patients to doctors' insurance companies this past week. It was interesting and I have seen enough news articles on it to that the "All doctors are getting sued" crowd is beating their drums already.
The reality is that they are misquoting and massaging the report's information. If you look at the report, it finds that :
The majority of the largest groups of doctors – internal medicine, family medicine and pathology – will never make a malpractice payment in their lifetime.
That with low risk specialties 81 percent of physicians never paid a malpractice claim.
That 95 percent of low risk specialty and 67 percent of high risk specialty physicians have not made a payment during the first half of their medical career.
That really doesn't sound like a lot. Nor does it support conclusions of "clogged dockets in New York" , "Doctors all running out of state", or my favorite " the need for caps"
I think it may point to the facts that there really aren't that many suits. Doctors are no more the target of claims than anyone else. Claims come from negligent actions that cause damage. Do cases get lost or dropped? Sure, just like with any other claim. There really is no problem to solve. Here in Minnesota, we know that's the case.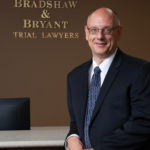 A founding partner with Bradshaw & Bryant, Mike Bryant has always fought to find justice for his clients—knowing that legal troubles, both personal injury and criminal, can be devastating for a family. Voted a Top 40 Personal Injury "Super Lawyer"  multiple years, Mr. Bryant has also been voted one of the Top 100 Minnesota  "Super Lawyers" four times.