"JUDICIAL HELLHOLES" Report Unfairly Attacks Minnesota Justice
Minnesota legal group says the report—funded by big tobacco and pharmaceutical companies— is a disservice to Minnesota's Judiciary.
(Minneapolis, MN)- The leader of the Minnesota Association for Justice (MNAJ) said today that the Judicial Hellholes 2009 report, published today by the American Tort Reform Association, is nothing more than "an annual trashing of the Judiciary that is widely discredited, biased and not based on any scientific or peer reviewed research."
Michael A. Bryant, an attorney practicing in Minnesota and the current President of the Minnesota Association for Justice said; "First, it should be made clear that the report, funded by insurance, pharmaceutical and tobacco companies, is an ill conceived effort to create fear about our court system; and finally, goes completely overboard when taking direct aim at Minnesota's Supreme Court by singling them out for 'Dishonorable Mention'".
The case the ATRA refers to is a recent Minnesota Supreme Court decision, Fleeger vs. Wyeth Pharmaceuticals, Inc, which was written by Chief Justice Eric Magnuson. Sadly, the report fails to tell the whole truth about the case and insults our state, and our Chief Justice, by labeling the decision "dishonorable."
"The truth is, Minnesota Justices were faced with a legal dilemma and ruled on the fact of law, which is exactly what we want our Judiciary to do," Bryant continued.
What the report failed to mention is that prior to 1977, Minnesota had a "borrowing statute" for individuals and companies who brought suit in Minnesota, but were not residents of the state. Under the borrowing statute, when such non-resident plaintiffs brought suit in Minnesota, the court would "borrow" the statute of limitations from the state in which the claim arose. This was important because different states have varying statutes of limitations, with Minnesota's being among the longest at six years for negligence and product liability claims.
The borrowing statute was eliminated by the Minnesota legislature in 1977. As a result, all plaintiffs who brought suit in Minnesota, no matter where the underlying injury took place, could potentially rely on Minnesota's long statute of limitations.
In 2004, The Minnesota legislature enacted a new borrowing statute. The new statute essentially mirrors the previous statute in Minnesota, stating that when a non-resident plaintiff brings a claim in Minnesota, but that claim is based on another state's laws, the statute of limitations from that state applies. The legislature made clear that this new borrowing statute only applies to claims arising from incidents that occurred on or after August 1, 2004.
"The result of the legislature's response is a short window of potential additional cases, but to suggest that it was result of some devious plot to allow frivolous lawsuits is shameful. The perpetrators of this report have done a disservice to the Minnesota Judiciary and should apologize for insinuating that our Justices could have ruled in any other way," Bryant concluded.
Since 1998 Minnesota's personal injury filings have gone down almost 40%. Bryant adds, "You'd think they'd have nothing but good things to say about Minnesota."
The Minnesota Association for Justice is a professional association of attorneys who represent Minnesotans wrongfully harmed or injured in person, property or human rights. MNAJ defends the rights guaranteed by the Constitutions and laws of the United States and Minnesota, foremost among them the right to a trial by jury and advocates for public policy to enhance consumer rights and protection.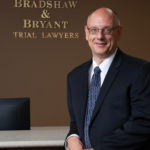 A founding partner with Bradshaw & Bryant, Mike Bryant has always fought to find justice for his clients—knowing that legal troubles, both personal injury and criminal, can be devastating for a family. Voted a Top 40 Personal Injury "Super Lawyer"  multiple years, Mr. Bryant has also been voted one of the Top 100 Minnesota  "Super Lawyers" four times.