We have talked about the insurance company strategy of Deny, Delay, Defend many times here at the Injurboard. A couple of companies have almost come right out and admitted that is their strategy. Say no. Some people will go away. Say you need more time. Some people will die or give up. Say Hell No! Some people will not have the resources or the help to fight. It is the way to push the unrepresented around.
Well should we be surprised the tactic is at the heart of what the Republicans are doing in the Senate with the Heath Care Bill? How do we know? They told us.
Here is the whole letter and supporting documents.
If you think maybe they are doing what's right for the consumer. Keep in mind, many of these same Senators had the chance to do something about health care in the past. They didn't. Just like insurance companies could pay the bills they are responsible for.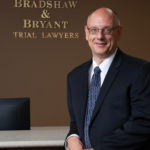 A founding partner with Bradshaw & Bryant, Mike Bryant has always fought to find justice for his clients—knowing that legal troubles, both personal injury and criminal, can be devastating for a family. Voted a Top 40 Personal Injury "Super Lawyer"  multiple years, Mr. Bryant has also been voted one of the Top 100 Minnesota  "Super Lawyers" four times.