Oh Texas, the land of all that tort reform. It's where Karl Rove, George W. , and Rick Perry practiced their social engineering before they started touting it on the national stage. It's where they passed laws to get big business, insurance companies , and big donors what they asked for. One of those items was medical malpractice tort reform.
What is unfortunate is as they leave, it's the consumer who has to live with what they left behind. They stripped people's individuals rights. So how did that turn out?
A recent report tells us, as was predicted, not well at all for the consumer:
A new study found no evidence that health care costs in Texas dipped after a 2003 constitutional amendment limited payouts in medical malpractice lawsuits, despite claims made to voters by some backers of tort reform.
It's true, the law change didn't change costs at all. So what did it do? It saved insurance companies money. It lessened the liability of those bad doctors who do a majority of the malpractice. It took care of the wrongdoer at the expense of those who were injured.
This study will hopefully open some eyes, or at the very least provide evidence for why other states shouldn't steal the rights of the consumer. Justice needs to be available for everyone.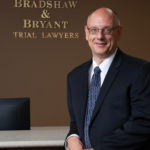 A founding partner with Bradshaw & Bryant, Mike Bryant has always fought to find justice for his clients—knowing that legal troubles, both personal injury and criminal, can be devastating for a family. Voted a Top 40 Personal Injury "Super Lawyer"  multiple years, Mr. Bryant has also been voted one of the Top 100 Minnesota  "Super Lawyers" four times.