Segment Five :
This one really was funny. It looks at judicial elections and says that business spending on elections is not true. The judge doesn't seem to have noticed what has happened in Michigan and Ohio where clearly courts elections were paid for by corporate money.
They act as if the movie said that only one side was giving. "They won't have to give much". The movie points out the imbalance and actually points out that the trial lawyers are the only ones fighting this battle. That if they weren't there, things would be even worse. The panel does nothing to actually talk about the case example in the movie.
Finally, they claim that there was an opportunity that was missed by the movie. They should have talked more about other things without addressing anything else. They call the discussion one sided, but they don't use any numbers because they can't find any that don't show how one sided the spending is.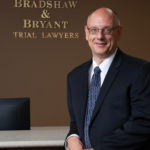 A founding partner with Bradshaw & Bryant, Mike Bryant has always fought to find justice for his clients—knowing that legal troubles, both personal injury and criminal, can be devastating for a family. Voted a Top 40 Personal Injury "Super Lawyer"  multiple years, Mr. Bryant has also been voted one of the Top 100 Minnesota  "Super Lawyers" four times.