Segment Four:
This segment looks at what I thought was the most compelling part of the movie. This was the look at the extremely harsh damage caps of Nebraska. The panel claims that the movie does something it doesn't. The movie never says that Nebraska is anything other than what it is.. There is no claim that other states have absolute caps and actually use a graphic consistent with the reality. What the movie does do is show how harsh any cap is. The panel sidesteps the reality of caps.
The tort reforming judge exposes himself in the discussion about pain and suffering being soft. Those are the real harms and losses that a person suffers. If he really wanted to make someone whole, he wouldn't push this off as some unimportant part of a person's recovery. It is what restores the balance for what can't be replaced.
They then go on to discuss the Bill of Rights and Constitution. Somehow they try to again rob the jury of what is their right to find the facts in a case. The professor gets close to admitting this after the other two blatantly ignore the law of the land, but even there she then asks, "Then why can a judge review it?" Because a judge can find that they didn't apply the facts to the law properly. It isn't anything that disproves a thing that Congressman Bruce Braley says in the clip.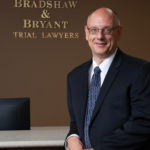 A founding partner with Bradshaw & Bryant, Mike Bryant has always fought to find justice for his clients—knowing that legal troubles, both personal injury and criminal, can be devastating for a family. Voted a Top 40 Personal Injury "Super Lawyer"  multiple years, Mr. Bryant has also been voted one of the Top 100 Minnesota  "Super Lawyers" four times.