Ric Flair is getting very close to the end of his career, but what a wrestling career he has had. One of the highlights was the way he could flop or fall down to sell a move:
http://www.youtube.com/watch?feature=player_embedded&v=_4G1XdJj-oc
But it was just acting. It was done to keep the match interesting, but at best it was window dressing for the paying customers.
The New York Times recently reported a call for the doctors of this country to stop doing unnecessary tests. As they reported:
a group of nine medical specialty boards plans to recommend on Wednesday that doctors perform 45 common tests and procedures less often, and to urge patients to question these services if they are offered. Eight other specialty boards are preparing to follow suit with additional lists of procedures their members should perform far less often.
The idea is to reduce costs and to also stop putting patients through unnecessary tests.
EKGs done routinely during a physical, even when there is no sign of heart trouble.
M.R.I.'s ordered whenever a patient complains of back pain.
Antibiotics prescribed for mild sinusitis.
Routine stress cardiac imaging in asymptomatic patients.
Radiologists not to run imaging scans on patients suffering from simple headaches.
Physicians to prescribe the lowest doses of medication needed to control acid reflux disease.
Cut back on scans for patients with early stage breast and prostate cancers that are not likely to spread.
Kidney disease doctors are urged not to start chronic dialysis before having a serious discussion with the patient and family.
For many years, tort reform advocates have pointed to these tests as defensive medicine. The thing is, when you ask about it they really can't answer the questions:
– Are these really unnecessary tests?
– Is it normal practice not to do these tests?
– Do you bill for these unnecessary tests?
– So isn't this really fraud?
They never want to address these issues. Because they are unnecessary, they are billed, and in the end they amount to profits made with phony flops.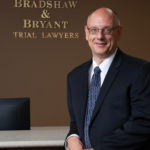 A founding partner with Bradshaw & Bryant, Mike Bryant has always fought to find justice for his clients—knowing that legal troubles, both personal injury and criminal, can be devastating for a family. Voted a Top 40 Personal Injury "Super Lawyer"  multiple years, Mr. Bryant has also been voted one of the Top 100 Minnesota  "Super Lawyers" four times.