It's been interesting to watch the U S Senate debate today. There is more to go, so I'm sure they might just touch on just about everything. About 30 minutes ago, Senator McCain started the fraudulent claims that medical malpractice reform would make a significant difference. Sure, half of one percent savings by eliminating all claims would be a great difference. To your Insurance contributers Senator McCain.
Let's talk about the 98,000 people that die each year due to medical errors. Let's go after those numbers and reduce them. You do that and you will bring down malpractice claims. You will get rid of the few doctors that do a majority of the malpractice. You will save lives.
We will see how the rest of the night goes. Hopefully, it will get around to what is best for the American consumer.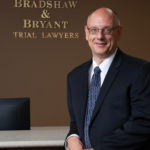 A founding partner with Bradshaw & Bryant, Mike Bryant has always fought to find justice for his clients—knowing that legal troubles, both personal injury and criminal, can be devastating for a family. Voted a Top 40 Personal Injury "Super Lawyer"  multiple years, Mr. Bryant has also been voted one of the Top 100 Minnesota  "Super Lawyers" four times.