Carolyn Savage thought the last few months were tough. She's really in for it now. If you missed the story, the Ohio woman was implanted with the wrong embryo by her fertility clinic back in February. She decided to carry the child to term. Thursday, she gave birth to the baby boy, and turned it over to the genetic parents.
Paul and Shannon Morell, the new parents, call Savage their 'guardian angel.' I think she's a saint. She didn't have to carry the child. Once she did, it is arguable whether she had any obligation to turn the child over to the genetic parents.
In the upcoming weeks, we may find out how she came to her decisions. She has said that she has a personal opposition to abortion. Or maybe she understood the pain of most couples having to deal with fertility clinics and in vitro fertilization. The London Telegraph reported:
"This was someone else's child," she said the day before giving birth. "We didn't know who it was, we didn't know if they didn't have children or if this was their last chance for a child. We knew if our child was out there, we'd go to the ends of the earth to get our child back."

Over the following eight months Mrs Savage felt the child growing and kicking inside, knowing all the while he was not hers to keep.
The final paragraphs of the AP report notes that the Savages
… have hired attorneys who say they are
working to make sure the fertility clinic accepts
responsibility.
The response of readers in comments at the end of the Star Tribune story as well as internationally are interesting. The vast majority, almost unanimous, group supports the couple's efforts to secure compensation from the clinic. But there are is a vocal minority that complain that compensation is unnecessary, that hiring lawyers is wrong, and that "It's all about greenbacks." I suppose there's always kooks in every crowd, but if the tort deform cheerleaders can't agree this saint deserves compensation, there's just no hope for them.
To say nothing of the folks that will make it a fight about abortion.
Litigation, a media circus, and typical post partum emotions complicated by the loss of the baby.
Saint Carolyn of Ohio is in for a rough ride.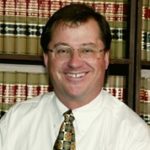 As a partner with Bradshaw & Bryant, Joe Crumley has over 20 years experience with the firm—helping injured people and their families to secure just and fair compensation. Excelling in personal injury litigation, Mr. Crumley has secured numerous record-setting verdicts and settlements and won accolades such as MTLA's "Trial Lawyer of the Year" and "Excellence" Awards.