The Minneapolis Tribune had a sad but true follow up on a recent DUI sentencing. The story looked at the two people involved. The Driver:
Kristin Kealy, a single mother who had a clean driving and criminal record, drove drunk on a Coon Rapids road at a speed police say reached 90 miles per hour last August
Kellie Stein the person injured:
Paralyzed from the neck down, Stein left the hospital Thursday for the first extended trip since the accident to tell an Anoka County judge how Kealy shattered her happy life.
The point of the story was how Kealy will get 1 year in jail and Stein will spent the rest of her life paying for what was done. How Kealy was .24 after being at Biff's bar in Spring Lake Park and Stein had been a regular person who enjoyed " fly fishing, gardening, painting, landscape designing. She has a bachelor's degree in psychology and criminal justice and had plans to continue her studies."
The Victim Impact statement included:
"I just lie in a hospital watching television," she said. "I consider myself an artist, but I can't even write my own name."
What a tragic example of all of those that are affected with drunk driving. It is a bad choice and it has life changing consequences. Kealy should not have been out on that road that night and Stein should still be enjoying her regular life. She's alive, so there is always hope for her, but what a penalty to pay for someone else's tragic actions.
These stories need to be told. I applaud the Tribune for the follow up. I also hope that Ms. Stein's message gets across to all of those that need to hear it.
Recent research indicates that deaths involving motor vehicles are down in Minnesota, but deaths linked to drinking and driving have remained to high. The rules are simple and must always be followed:
Don't Drink and Drive
Use designated drivers
Always remember that the more you drink, the more your odds of making bad choices increase.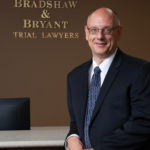 A founding partner with Bradshaw & Bryant, Mike Bryant has always fought to find justice for his clients—knowing that legal troubles, both personal injury and criminal, can be devastating for a family. Voted a Top 40 Personal Injury "Super Lawyer"  multiple years, Mr. Bryant has also been voted one of the Top 100 Minnesota  "Super Lawyers" four times.