As of today it looks like there is at least 4 recalls going:
Hy-Vee Inc. Recalls Bakery Products– These include Peanut Butter Cookies, Monster Cookies, Peanut Butter Reese's Pieces Cookies, Peanut Butter Chocolate Chip Cookies, Lunchbox Reese's Pieces Cookies, Lunchbox Peanut Butter Cookies, People Chow Party Mix and Assorted Truffle Fudge.
Peanut Corporation Of America recalled all products with Peanut Paste: all peanut butter produced on or after August 8, 2008 and peanut paste produced on or after September 26, 2008 at the Georgia facility. The peanut butter being recalled is sold by PCA in bulk packaging in containers ranging in size from five to 1,700 pounds. The peanut paste is sold in sizes ranging from 35 pound containers to tanker containers.
Kellogg Company has recalled their peanut butter products: Austin® and Keebler® branded Toasted Peanut Butter Sandwich Crackers, Peanut Butter and Jelly Sandwich Crackers, Cheese and Peanut Butter Sandwich Crackers, Peanut Butter-Chocolate Sandwich Crackers, Famous Amos Peanut Butter Cookies and Keebler Soft Batch Homestyle Peanut Butter Cookies.
King Nut recalled it's commercial products: Parnell's Pride peanut butter
Now the FDA and the CDC have recommended that consumers not eat products containing peanut butter (such as cookies, crackers, cereal, candy, and ice cream) until information becomes available about whether those products are linked to an ongoing salmonella outbreak that may have contributed to six deaths and harmed many others.
Here is advice from the FDA and CDC for consumers:

Don't eat recalled products. Throw them away in a manner that prevents others from eating them.

Postpone eating other peanut butter containing products (such as cookies, crackers, cereal, candy, and ice cream) until information becomes available about whether that product may be affected.

People who think they may have become ill from eating peanut butter are advised to consult their health care providers.
The problem is FDA testing is finding Salmonella in these products. Most people infected with Salmonella develop the symptoms 12 to 72 hours after infection. The illness usually lasts 4 to 7 days, and most people recover with treatment. However, in some persons, the diarrhea may be so severe that the patient needs to be hospitalized. It can be deadly to infants, the elderly and those that are sick all ready. For more information on Salmonella bacteria, please visit the Centers for Disease Control and Prevention's Website at http://www.cdc.gov.
If you or a family member is injured by a product, you need to get immediate medical care. If there is a significant affect or injury, you should contact an attorney concerning the problem. Early investigation can include the collection of product, checking recall alerts, and the proper notifying of those who caused the problem.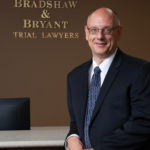 A founding partner with Bradshaw & Bryant, Mike Bryant has always fought to find justice for his clients—knowing that legal troubles, both personal injury and criminal, can be devastating for a family. Voted a Top 40 Personal Injury "Super Lawyer"  multiple years, Mr. Bryant has also been voted one of the Top 100 Minnesota  "Super Lawyers" four times.