In early October, the Canadian Food Inspection Agency issued a warning about Pirates Gold chocolate coins. The concern was the inclusion of the chemical melamine. Melamine has been used to artificially increase the appearance of protein in milk. The World Health Organization says that melamine and cyanuric crystals can grow and block the tunules have been found in the kidneys of children. In China, melamine has been linked to the death of infant children and to the illness of thousands of other children.
The Sherwood Brands chocolate coin warning applies to Sherwood Brands Pirate's Gold Milk Chocolate Coins sold in 840-gram containers containing 240 pieces per container with the UPC code 0 36077 11240 7 and the lot code 1928S1. Those chocolates were sold in Canadian Costco stores and various dollar and bulk stores, according to the Canadian Food Inspection Agency.
The FDA has advised consumers not to eat these other products because of possible melamine contamination:

Koala's March Crème filled Cookies

YILI Brand Sour Milk Drink

YILI Brand Pure Milk Drink

Blue Cat Flavored Drinks

White Rabbit Candies

Mr. Brown Mandehling Blend Instant Coffee (3-in-1)

Mr. Brown Arabica Instant Coffee (3-in-1)

Mr. Brown Blue Mountain Blend Instant Coffee (3-in-1)

Mr. Brown Caramel Macchiato Instant Coffee (3-in-1)

Mr. Brown French Vanilla Instant Coffee (3-in-1)

Mr. Brown Mandheling Blend instant Coffee (2-in-1)

Mr. Brown Milk Tea (3-in-1)
If you suffer from food poisoning, you need to get immediate medical care. If it continues or there are long term affects, you should contact an attorney concerning the problem. Early investigation can include the collection of samples, checking for health alerts, and the proper notifying of those who caused the problem.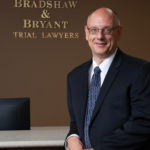 A founding partner with Bradshaw & Bryant, Mike Bryant has always fought to find justice for his clients—knowing that legal troubles, both personal injury and criminal, can be devastating for a family. Voted a Top 40 Personal Injury "Super Lawyer"  multiple years, Mr. Bryant has also been voted one of the Top 100 Minnesota  "Super Lawyers" four times.