There is a real person behind every food poisoning. I'm reminded of that every time I sit down and talk to a family who has lost a loved one. So many times, we here at the InjuryBoard write this food alert or that outbreak. I try to write each story with an eye toward future safety and what could have been done differently. The point is to prevent another similar incident from happening again. I've appreciated it when I have been contacted after a post by a reader who thanks me for pointing out the safety consideration. I think it comforts people to know that something is being done to prevent future issues and even maybe to save lives in the future.
Locally the story of Stephanie Smith, 22 year old from Cold Spring, Minnesota who suffered severe cramping and diarrhea, then kidney failure and seizures as a result of eating a tainted hamburger. She was in a medically induced coma for nine weeks and since waking up, has not been able to walk. She was known as a dance instructor who loved to work with children.
The New York Times looked at the story and provided not only a heartbreaking video of her loss, but also tracked the story as to what it was that caused this tragedy to happen. How the burger came from frozen hamburger made by Cargill, which saved 25 percent in production costs by using a mix of trimmings and a mash-like product from slaughterhouses in Nebraska, Texas and Uruguay vs. whole meat .
Low-grade ingredients are cut from areas of the cow that are more likely to have had contact with feces, which carries E. coli. Cargill was relying upon the processing plants. The result is the type of product that can sicken people. But in this case changes a young woman's life forever.
A simple example of why we need to work to make the food we eat safer. Too many people have been hurt. Stephanie Smith was one of those.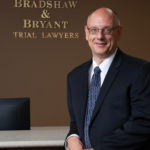 A founding partner with Bradshaw & Bryant, Mike Bryant has always fought to find justice for his clients—knowing that legal troubles, both personal injury and criminal, can be devastating for a family. Voted a Top 40 Personal Injury "Super Lawyer"  multiple years, Mr. Bryant has also been voted one of the Top 100 Minnesota  "Super Lawyers" four times.