Peanut Corporations' distribution of peanut butter is causing sever problems across the country. Here in Minnesota, three have died from eating the product. This is part of the seven that have died nationally. Each day the number of products affected continues to grow. So far, 36 people in Minnesota have been infected, and 13 of them have been hospitalized, the Health Department said. Nationally, 491 people had been reported infected in 43 of the 50 U.S. states, the Centers for Disease Control and Prevention said on its website.
The problem is, findings of Salmonella, which is an organism that can cause serious and sometimes fatal infections in young children, frail or elderly people, and others with weakened immune systems. Healthy persons infected with Salmonella often experience fever, diarrhea (which may be bloody), nausea, vomiting and abdominal pain. In rare circumstances, infection with Salmonella can result in the organism getting into the bloodstream and producing more severe illnesses such as arterial infections (i.e., infected aneurysms), endocarditis and arthritis. For more information on Salmonella, please visit the Centers for Disease Control and Prevention's Website at http://www.cdc.gov.
If you or a family member is injured by a product, you need to get immediate medical care. If there is a significant affect or injury, you should contact an attorney concerning the problem. Early investigation can include the collection of product, checking recall alerts, and the proper notifying of those who caused the problem.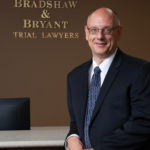 A founding partner with Bradshaw & Bryant, Mike Bryant has always fought to find justice for his clients—knowing that legal troubles, both personal injury and criminal, can be devastating for a family. Voted a Top 40 Personal Injury "Super Lawyer"  multiple years, Mr. Bryant has also been voted one of the Top 100 Minnesota  "Super Lawyers" four times.