Here at the Injuryboard a number of the writers have been covering the various recalls and the implications. I've written about it a number of times. But I have to say the testimony I read from Congress today concerning the Peanut Butter recall, seems to say it all:
Jeffrey Almer of Savage, Minn., described how his elderly mother survived lung cancer, a brain tumor, and other illnesses—and then she died from salmonella poisoning. "Cancer couldn't claim her but peanut butter did," said Almer.
The rest of the testimony included the company owner taking the fifth and members of the committee reviewing emails from that same owner complaining about the money the government was forcing him to lose.
I truly hope justice is served both on the owner and for all of those injured. I feel for the Almer family and all of those that lost loved ones. We have to learn from this horrible event and make sure that it's never repeated.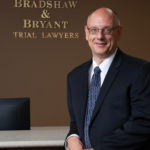 A founding partner with Bradshaw & Bryant, Mike Bryant has always fought to find justice for his clients—knowing that legal troubles, both personal injury and criminal, can be devastating for a family. Voted a Top 40 Personal Injury "Super Lawyer"  multiple years, Mr. Bryant has also been voted one of the Top 100 Minnesota  "Super Lawyers" four times.