There are many examples of recalls that writers here at the Legal Examiner have covered concerning E. Coli threats. Many of the stories involve beef recalls, but there have also been peanut butter, vegetables, and cookie dough.
Many of the side effects seem to be like typical food poisoning. Sometimes with horrific results. A study has suggested that there could be additional long term issues. Canadian researchers with the Walkerton Health Study published in the Nov. 19 online edition of BMJ suggests that there is increased risk for high blood pressure, kidney problems, and heart disease later in life.
"Our findings underline the need for following up individual cases of food or water poisoning by E. coli O157:H7 to prevent or reduce silent progressive vascular injury," Dr. William Clark, professor of nephrology at London Health Sciences Center in Ontario, and colleagues wrote in the study. "These long-term consequences emphasize the importance of ensuring safe food and water supply as a cornerstone of public health"
Hopefully, this research will be followed up on.
If you suffer from food poisoning, you need to get immediate medical care. If it continues or there are long term affects, you should contact an attorney concerning the problem. Early investigation can include the collection of samples, checking for health alerts, and the proper notifying of those who caused the problem.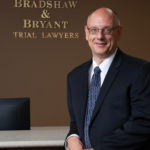 A founding partner with Bradshaw & Bryant, Mike Bryant has always fought to find justice for his clients—knowing that legal troubles, both personal injury and criminal, can be devastating for a family. Voted a Top 40 Personal Injury "Super Lawyer"  multiple years, Mr. Bryant has also been voted one of the Top 100 Minnesota  "Super Lawyers" four times.