With seven dead and hundreds sick, the product recalls continue to grow. Salmonella tainted peanut butter, that originated from the Georgia plant of Peanut Corporation America is the cause. Initial reports were that it was limited to commercial tubs that were sold on a limited distribution. With the recalls now growing over 125 products and including a spectrum of items, it's clear that the initial information was wrong. Didn't they know where their product was going?
The average American consumes more than six pounds of peanuts and peanut butter products each year. So it's clear that the market is there. The New York Times did a good job of covering the complexity of the different products. But even with that, it seems like the plant should know who they are supplying.
Presently, the plant at fault is shut down and last week most of it's 50 workers were layed off. Each of the products involved have been figuring out how to best deal with the problem. Even products not involved are announcing that they are not.
The FDA has set up a separate website on the issue. Which include:
Hopefully, the investigations and the lawsuits that will follow can get to the bottom of what happened. If the company lied initially, they need to be punished for that. This is one of the biggest food scares the country has faced. Hopefully, enough can be learned from it so that it doesn't happen again.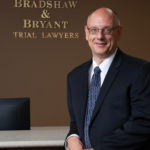 A founding partner with Bradshaw & Bryant, Mike Bryant has always fought to find justice for his clients—knowing that legal troubles, both personal injury and criminal, can be devastating for a family. Voted a Top 40 Personal Injury "Super Lawyer"  multiple years, Mr. Bryant has also been voted one of the Top 100 Minnesota  "Super Lawyers" four times.