Hubert Humphrey talked about the way a society is doing could be judged by the way they cared for the most vulnerable. How they protected their young and their elderly. In some ways, it looks like the state of Minnesota is doing well and in others, not well at all.
The Minneapolis Star Tribune has played a big role in the reporting of the involved agencies.
As they pointed out with child care investigations:
In a report issued Wednesday, state officials said the "alarming trend" of child-care deaths has been stalled, with just one death in the last eight months.

Following a Star Tribune investigation last year that uncovered the rising number of deaths, state and county regulators stepped up enforcement, with more fines for providers who ignored safe sleep practices, and increased communication to the 11,000 in-home providers across the state.
The quick investigations are protecting children by shutting down bad daycare and ensuring that care providers and parents know that complaints are being reviewed and investigated.
Alternatively, they also have found concerning vulnerable adults:
Minnesota regulators charged with protecting vulnerable adults have been falling behind in their duties, with the backlog of pending maltreatment investigations doubling in the past four years.

And the agency responsible for looking into those complaints has failed to report the problem to the Legislature as the law requires.

The backlog of pending maltreatment investigations had grown to 724 cases at the end of 2012, according to figures contained in a report this week by the Department of Human Services (DHS). The agency is responsible for overseeing licensed programs that serve thousands of vulnerable adults, including those with mental illness and developmental disabilities.
Hopefully, this report will also change the way things are being done and have the effect of better protection. From time to time, we are asked to look at cases that involve both of these areas and it is tragic to see how better education, strong hiring background checks, and better oversight could have protected so many injuries. How the vulnerable are not protected despite expensive bills for their care.
Parents, children , and significant others put loved ones in these placements for safety. They need the protection and assurance that these individuals will be safe. Thank you Tribune for continuing to follow up on these stories.
It's important that we protect all of those who have contributed to society and who are the most vulnerable.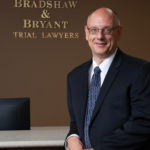 A founding partner with Bradshaw & Bryant, Mike Bryant has always fought to find justice for his clients—knowing that legal troubles, both personal injury and criminal, can be devastating for a family. Voted a Top 40 Personal Injury "Super Lawyer"  multiple years, Mr. Bryant has also been voted one of the Top 100 Minnesota  "Super Lawyers" four times.