Traumatic brain injuries (TBIs) contribute to more than 150 deaths across the United States every single day. And those who are fortunate enough to survive a major bump, blow, or jolt to the head are inclined to develop disabilities, which can permanently change life as they know it.
While you can sustain a TBI in virtually any kind of accident, motor-vehicle collisions remain one of the most common causes. If you or someone you love has brain damage following a crash with a drunk, distracted, or otherwise reckless driver, your family may be entitled to compensation for the associated damages.
Although filing a car accident claim won't undo the TBI, it could yield the funds needed to lead a somewhat normal life despite the injury. Let's take a look at some of the most frequently asked questions about building a strong brain injury claim following a wreck:
1. How Do You Prove the Severity of a TBI?
Since TBIs don't always cause visible damage, their full extent is rarely apparent in diagnostic images. As such, proving their severity often poses a challenge.
If you cannot use X-rays, CT scans, or MRI results to demonstrate the extent of your TBI, your legal team will attempt to gather other kinds of evidence to contextualize your condition. Such evidence might include:
• Medical records;
• Testimony from relevant experts;
• Statements from your health care providers;
• Statements from friends, loved ones, and colleagues; and
• Personal injury journal entries.
2. What Kinds of Damages Are Recoverable After Sustaining a TBI?
Minnesota allows injured parties to seek compensation for both the economic and non-economic damages that they incur. Examples include:
• Medical bills;
• Reasonably necessary replacement services;
• Lost wages;
• Loss of future earning capacity;
• Home and vehicle modifications needed to accommodate any permanent limitations;
• Objectively calculable losses;
• Mental anguish;
• Loss of enjoyment in life; and
• Pain and suffering.
3. What Can I Do to Strengthen My Car Accident Claim?
While there's no way to guarantee any given claim will yield a sizable payout, there are steps you can take to increase your chances of recovering the compensation you deserve. Such steps include:
• Hiring a strategic attorney from day one;
• Referring all correspondence with the opposing party to your legal team;
• Refusing to give a premature recorded statement;
• Tracking your economic damages diligently by saving relevant bills and receipts;
• Keeping a personal injury journal;
• Following your doctor's orders; and
• Waiting to conclude the negotiations until you've reached maximum medical improvement.
Discuss Your Case with a Car Accident Lawyer in St. Cloud
If you've been struggling after sustaining a TBI through no fault of your own, contact Bradshaw & Bryant to determine how best to proceed. Our tireless team is committed to getting clients the results they deserve.
By letting us handle the logistics of your case, you can focus on more important matters, like your health and well-being. Call 320-259-5414 or use our Online Contact Form to set up a free consultation with a car accident attorney in St. Cloud.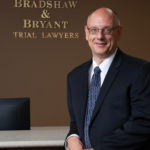 A founding partner with Bradshaw & Bryant, Mike Bryant has always fought to find justice for his clients—knowing that legal troubles, both personal injury and criminal, can be devastating for a family. Voted a Top 40 Personal Injury "Super Lawyer"  multiple years, Mr. Bryant has also been voted one of the Top 100 Minnesota  "Super Lawyers" four times.