When a truck strikes a passenger vehicle head on, the consequences are almost always catastrophic. All parties involved are likely to suffer injuries, but there's a high chance of death to the occupants of the smaller vehicle.
If you or a loved one was hurt in a head-on truck accident, you may already know just how quickly the medical bills and other costs can add up. Depending on the circumstances, you may be entitled to compensation for all damages incurred.
The process of filing a personal injury or wrongful death claim against a motor carrier is incredibly complicated. The best way to get answers to your questions is to speak with an attorney in a free consultation.
Below, we've answered a few FAQs about head-on truck accident cases:
1. How Do You Prove Fault Following a Head-on Truck Accident?
Like other kinds of motor-vehicle collisions, proving fault for a head-on truck accident starts at the scene. Taking photographs of the wreckage and recording statements from eyewitnesses may help your attorney and accident reconstruction experts determine what happened in the seconds leading up to the crash. Other types of evidence that might be used to prove fault include:
• Data from the truck's black box;
• Cell phone records;
• The driver's log books;
• The results of any chemical tests conducted at the scene;
• Dash cam footage and/or surveillance recordings;
• The motor carrier's maintenance records; and
• The official police report.
2. What Kinds of Damages Can I Include in the Settlement Negotiations?
In the state of Minnesota, truck accident victims may seek compensation for both economic and non-economic damages. When it comes to economic damages, potentially recoverable losses include:
• Past and future medical expenses;
• Lost wages;
• Loss of future earning capacity and lost benefits;
• Property damage;
• Alternative transportation;
• Home and vehicle modifications that are necessary to accommodate any physical limitations;
• Child care; and
• Domestic help.
Potentially recoverable non-economic damages include:
• Loss of enjoyment in life;
• Mental anguish; and
• Pain and suffering.
3. How Long Do I Have to Bring My Case to Court?
In Minnesota, the typical statute of limitations for personal injury lawsuits is six years from the date on which the cause of action accrued. If the defendant intentionally harmed the plaintiff, however, the deadline is just two years. And for those who are filing a wrongful death lawsuit, the time limit is three years.
Because every case is different and there are several exceptions to these deadlines, it's wise to talk to an attorney as soon as possible. If it turns out a government entity is liable for your damages, you must submit notice of your claim within just 180 days.
Speak with a St. Cloud Truck Accident Attorney
If you or a member of your family sustained injuries through the fault of a negligent trucker, contact Bradshaw & Bryant to determine the most strategic way to proceed. Our lawyers are committed to protecting the physical, emotional, and economic wellbeing of our clients. Call 320-259-5414 or fill out our Contact Form to schedule a free case evaluation with a truck accident lawyer in St. Cloud.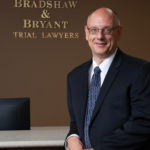 A founding partner with Bradshaw & Bryant, Mike Bryant has always fought to find justice for his clients—knowing that legal troubles, both personal injury and criminal, can be devastating for a family. Voted a Top 40 Personal Injury "Super Lawyer"  multiple years, Mr. Bryant has also been voted one of the Top 100 Minnesota  "Super Lawyers" four times.