Not all premises liability attorneys offer high-caliber representation. Many are overworked and cannot provide their clients with enough individual attention. Others lack the experience to enter litigation with confidence and to avoid critical mistakes. Due to these disparities, it is essential that you choose your attorney wisely.
One of the best ways to evaluate a particular lawyer is to schedule a case review. Most premises liability attorneys offer free consultations, so you won't have to pay anything to ask questions and to get a feel for the lawyer's personality.
During this consultation, it is important that you ask specific questions to find out if the attorney has the qualities that set the best advocates apart from the rest. Such qualities include:
1. Handles Cases on a Contingency Fee Basis
Because legal proceedings can be unpredictable, it is usually best to hire a personal injury attorney on a contingency fee basis. That means the lawyer's payout is contingent on the outcome of your case. A lawyer who works on contingency will have more incentive to invest extra time and effort when an unexpected issue arises. Also, you won't have to worry about adding to your financial burden by paying upfront for legal representation.
2. Has Handled Cases That Are Similar to Yours
Personal injury law is an incredibly broad practice area that encompasses a wide array of cases—from products liability to medical malpractice to motor-vehicle collisions. In other words, not all personal injury attorneys are well-versed in the statutes and case law pertaining to premises liability. A lawyer who has resolved cases that are similar to yours will be better able to anticipate disputes and prepare to counter them. They will also know the kinds of evidence to gather and how to avoid unnecessary complications that might extend the proceedings or reduce your financial recovery.
3. Has Litigation Experience
Entering litigation can prolong a case considerably and it comes with added costs. Many attorneys are reluctant to enter litigation even when it is in their client's best interests to do so. If you hire a lawyer with extensive litigation experience, they may be more willing to file a lawsuit if the opposing party refuses to pay a fair settlement. Even if you expect the case to settle, having a seasoned litigator by your side may work to your advantage during the settlement negotiations.
Discuss Your Case with a Premises Liability Attorney in St. Cloud Today
If you or someone you love was seriously hurt because of a property owner's negligence, contact Bradshaw & Bryant. For six consecutive years, attorney Michael Bryant has been recognized as a Super Lawyer and has been named among Minnesota's Top 40 Personal Injury Lawyers by Minnesota Law & Politics.
Call 320-259-5414 or fill out our Contact Form to schedule a free case evaluation with a premises liability lawyer in St. Cloud. If you are unable to come to us, a member of our team will come to you.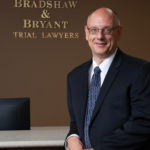 A founding partner with Bradshaw & Bryant, Mike Bryant has always fought to find justice for his clients—knowing that legal troubles, both personal injury and criminal, can be devastating for a family. Voted a Top 40 Personal Injury "Super Lawyer"  multiple years, Mr. Bryant has also been voted one of the Top 100 Minnesota  "Super Lawyers" four times.