If you were struck by a reckless driver, you may be entitled to compensation for the resulting damages. As long as you meet Minnesota's serious injury threshold—by incurring more than $4,000 in medical bills, for example—you can file a third-party claim with the at-fault motorist's insurer.
In order to recover a payout, though, you'll have to present sufficient evidence of liability, causation, and damages. Your claim will also have to stand up to scrutiny from the claims adjuster.
No matter how sympathetic the adjuster seems, it's important to remember that his or her ultimate goal is in direct opposition to your own. Whereas the insurer needs to protect their bottom line, you need to secure a settlement large enough to cover your medical bills, lost wages, and other damages.
Since insurers are not above employing manipulative—and sometimes even underhanded—tactics to deny or at least devalue claims, it's essential that you handle all correspondence with care. Here are a few tips to keep in mind:
1. Do Not Give a Recorded Statement
The insurance adjuster will probably ask for a recorded statement relatively early in the proceedings. In fact, they may even request one during your first conversation. Such statements can be used as evidence to dispute your claim, so it's best to avoid providing a statement, especially before consulting an attorney.
2. Do Not Admit Fault
Most car accidents occur in an instant, making it virtually impossible for those who are involved to be sure of what happened. As such, you should leave it up to your legal team to determine liability.
Even if you think you played a role in the crash, don't state as much to the claims adjuster. In fact, you should avoid speculating on the cause of the collision at all.
If you admit fault, it may be more difficult to obtain compensation for 100 percent of the damages. Under Minnesota's modified comparative fault rule, the defendant's liability is reduced in proportion to the plaintiff's own percentage of responsibility. What's more, plaintiffs who are found more than 50 percent liable are barred from recovering anything at all.
3. Do Not Accept a Premature Settlement
The claims adjuster may offer a prompt payout because he or she knows you're in a dire financial position. But until you've reached maximum medical improvement, it may be best to put off the negotiations. If you settle, you won't be able to seek further compensation from the insurer, even if your injuries turn out to be more extensive than initially believed.
Call 320-259-5414 for a Free Consultation with a St. Cloud Car Accident Attorney
If you were struck by a drunk, drowsy, or careless driver, contact Bradshaw & Bryant to determine the most strategic way to proceed. We will answer your questions, conduct a thorough investigation into the accident, and gather the evidence needed to pursue the compensation you deserve. Call 320-259-5414 or use our Online Contact Form to set up a free consultation with a car accident lawyer in St. Cloud.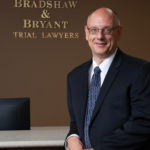 A founding partner with Bradshaw & Bryant, Mike Bryant has always fought to find justice for his clients—knowing that legal troubles, both personal injury and criminal, can be devastating for a family. Voted a Top 40 Personal Injury "Super Lawyer"  multiple years, Mr. Bryant has also been voted one of the Top 100 Minnesota  "Super Lawyers" four times.