Connecting with others on social media is a pillar of modern life. Indeed, whenever you need encouragement or have cause to celebrate, where do you turn first?
Most people share news—both good and bad—online without a second thought. If you were hurt in a car accident, however, you should reconsider before seeking support from your digital friends and followers.
Should you intend to file a claim, remaining active on social media could hurt your chances of recovering a fair payout. This is because the insurance adjuster could be monitoring your online activity, combing for evidence that can be used to challenge your case.
If temporarily disabling your accounts until your case has been resolved is not an option, you can avoid jeopardizing your claim by taking these steps:
1. Update Your Privacy Settings
Once you publish anything on the world wide web, there's no way to contain it. Updating your privacy settings, however, will provide an extra layer of protection.
Log in to each of your accounts, and make sure only approved friends and followers can view what you post. While the claims adjuster may still be able to see certain photos, videos, and statuses through third-party connections, stricter privacy settings will provide an added hurdle.
2. Screen All Friend & Follower Requests
Do not accept requests from people whom you don't recognize. Strangers who suddenly want to connect with you may be from the claims adjuster's office and could just be trying to gain access to your posts since you updated your privacy settings.
3. Avoid Posting Anything That Could Hurt Your Credibility
If the opposing party does manage to access one or more of your profiles, they may misinterpret—or perhaps even misrepresent—what you post. To avoid hurting your case, assume that the insurer will scrutinize everything you publish, and avoid posting about:
• The car accident;
• Your injuries;
• Your pending claim;
• Your social life; or
• Your expenditures.
4. Ask Friends & Relatives to Avoid Posting About You
If the claims adjuster cannot see what you post, he or she may try to monitor your activities through your loved ones' posts. Remind friends and family members that you have a pending case, and ask them to refrain from publishing photos of you or tagging you in their statuses.
You may also want to ask those who are closest to you, like your spouse and children, to update their privacy settings. Chances are many of their posts reference you in some form or another, so you want to make it especially hard for the claims adjuster to track them, as well.
Discuss Your Case with a Car Accident Attorney in St. Cloud
At Bradshaw & Bryant, we understand the physical emotional, and financial toll that serious injuries can take on the whole family. If you were struck by a drunk, distracted, or otherwise reckless driver, let us handle the logistics of your case so you can focus on more important matters. Call 320-259-5414 or fill out our Contact Form to schedule a free consultation with a car accident lawyer in St. Cloud.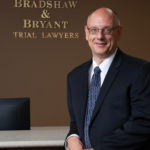 A founding partner with Bradshaw & Bryant, Mike Bryant has always fought to find justice for his clients—knowing that legal troubles, both personal injury and criminal, can be devastating for a family. Voted a Top 40 Personal Injury "Super Lawyer"  multiple years, Mr. Bryant has also been voted one of the Top 100 Minnesota  "Super Lawyers" four times.