While every social media platform is undeniably unique and appeals to a particular population, they all have one major feature in common, and that's connection. When users need love and support during trying times, they can always count on their friends or followers.
For this reason, you may be inclined to turn to social media if you were hurt while using a defective product. Regardless of whether you use Facebook, Twitter, or Instagram, it's only natural to seek comfort and advice from your digital connections.
If you plan on filing a product liability claim, though, it's wise to stay offline until the case has been resolved. For those who can't disable their accounts temporarily, the following tips should help:
1. Update Your Privacy Settings
If any of your profiles are visible to the public, change their privacy settings so they're only accessible to approved friends or followers. While this isn't a foolproof way to keep the insurance adjuster from monitoring your online presence, it will at least provide an added hurdle.
2. Be Cautious About Accepting New Connection Requests
Do not accept requests from those whom you don't actually recognize. If any strangers reach out while your case is pending, it is possible that they're working for the opposing party.
You should also review your existing friends and followers. Could any of them have connections to the insurance adjuster? If so, hide your updates from them or remove them altogether.
3. Avoid Posting About Your Recovery
Although friends and family members will undoubtedly want to know how you're doing, you should avoid posting updates online. There's no way to stop the opposing party from misinterpreting or even misrepresenting what you post.
You should also be wary of posting about your life in general. After all, even a seemingly innocuous post about going out to dinner with friends or taking the kids to the playground could give the insurance adjuster grounds to question the severity of your injuries.
4. Remind Loved Ones of the Pending Case
Even though you may not be posting about your life, there's nothing stopping friends and family members from tagging you in their posts. For this reason, make sure to remind them early and often of your pending claim.
It's also worth asking those closest to you if they're willing to update their privacy settings, as well. This will make it even harder for the insurance adjuster to track your activity through third-party connections.
Speak with a St. Cloud Product Liability Attorney Today
If you were hurt while using a defective product, you may be entitled to compensation for all resulting damages. To determine if you have grounds for a personal injury claim, contact Bradshaw & Bryant.
We take great pride in helping the injured and their families pursue what they need to put their lives back together. Call 320-259-5414 or fill out our Contact Form to schedule a free consultation with a product liability lawyer in St. Cloud.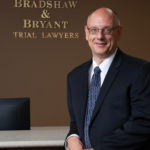 A founding partner with Bradshaw & Bryant, Mike Bryant has always fought to find justice for his clients—knowing that legal troubles, both personal injury and criminal, can be devastating for a family. Voted a Top 40 Personal Injury "Super Lawyer"  multiple years, Mr. Bryant has also been voted one of the Top 100 Minnesota  "Super Lawyers" four times.