If you slipped and fell at a business establishment, you may think it wise to post about your injury on social media. While this might seem like a reasonable gesture since your family and friends will want to know that you're okay, it is important to remember that your social media content will likely be admissible in court. That means the insurance adjuster may use your posts to dispute your claim.
The smartest way to use social media while your case is pending is not to use it at all. You should disable your accounts entirely until your claim has been resolved. If that isn't an option, consider taking the following steps:
1. Update Your Privacy Settings
Pull up the privacy settings on each account to make sure none of your profiles is visible to the public or even third-degree connections. If they are, update these settings so only approved friends and followers can view your pages.
2. Do Not Accept Connection Requests from Strangers
If someone whom you don't actually know reaches out on social media, avoid interacting with him or her until your case has been resolved. These people may be affiliated with the liable business establishment or their insurer.
3. Avoid Posting About the Incident
You may want to keep friends and followers updated on your recovery, but posting about the accident or your injury in any capacity could end up jeopardizing your case. Such posts may be taken out of context by the opposing party to dispute your credibility or the severity of your injuries.
To give your case the best chance of success, avoid publishing:
• A negative review of the business where you were injured;
• Photos of your injuries;
• Events that you attend or outings that you take;
• Unnecessary or seemingly luxurious purchases; and
• Doctor's appointment details.
4. Remind Loved Ones of Your Claim
To prevent friends and family members from hurting your claim—the insurance adjuster might be monitoring their profiles as well—remind them of the situation. Ask them to avoid posting photographs of you, and request that they reach out to you offline rather than posting on your profile or commenting on your posts.
You should also make sure they don't tag you in any statuses or "check-ins." Even attending a casual dinner could hurt your case if your doctor has ordered you to rest during recovery.
Call 320-259-5414 to Speak with a Premises Liability Attorney in St. Cloud
If you want to sue a negligent landlord, property manager, or business owner in Minnesota, contact Bradshaw & Bryant. By letting us handle the logistics of your case, you will be able to focus on your health.
We will take over dialogue with the insurance company, gather evidence, approximate a fair settlement amount, and help you fight for the highest recovery possible. Call 320-259-5414 today or fill out our Contact Form to schedule a free consultation with a premises liability lawyer in St. Cloud.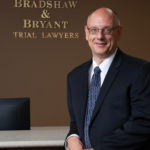 A founding partner with Bradshaw & Bryant, Mike Bryant has always fought to find justice for his clients—knowing that legal troubles, both personal injury and criminal, can be devastating for a family. Voted a Top 40 Personal Injury "Super Lawyer"  multiple years, Mr. Bryant has also been voted one of the Top 100 Minnesota  "Super Lawyers" four times.