If you were seriously hurt in a motor-vehicle collision, you may be entitled to monetary damages. In Minnesota, car accident victims can bypass the state's no-fault law if they meet the "serious injury threshold," meaning the accident resulted in:
• Permanent disfigurement;
• Permanent injury;
• Disability for at least 60 days;
• Medical expenses exceeding $4,000; or
• Death.
Just because you're eligible to bring a claim against the liable party (or their insurance company) doesn't mean a fair settlement will be offered. To win your case, you will need strong evidence to prove liability, causation, and damages. There are also steps you can take that may increase your chances of collecting a reasonable settlement. Examples include:
1. Visiting a Doctor Right Away
You will need medical documentation to prove the severity of your injuries and the cost of healthcare. Visiting a doctor right away could prevent the insurance company from saying that you have failed to mitigate the damages, your injuries aren't that serious, or the injuries were not caused in the accident.
2. Starting a Personal Injury Journal
Calculating the value of non-economic damages (the subjective consequences of the accident) can be incredibly complicated. There's no objectively verifiable monetary figure that can be assigned to pain and suffering, mental anguish, or loss of enjoyment in life; however, an attorney can approximate a fair value based on the relevant statutes, case law, and the facts of your claim.
One step you can take to strengthen your claim for non-economic damages is to keep a personal injury journal. Write daily entries about your symptoms, medication side effects, and how the injuries are affecting your personal life.
3. Accounting for All the Damages Incurred
Leaving certain damages out of the settlement calculations could greatly reduce your financial recovery. Your lawyer can ensure your claim accounts for all the damages you may be owed including non-economic and future damages.
4. Avoiding Mistakes
Certain mistakes could lead to disputes that have the potential to reduce your net recovery. For instance, providing a recorded statement to the insurance company or posting about your case on social media could bring liability, causation, or the value of your damages into question. You should therefore let your attorney handle all dialogue with the insurer and stay off social media while your claim is pending. Also, do not deviate from your doctor's orders or you may face a dispute over a failure to mitigate damages.
Call 320-259-5414 to Discuss Your Case with a St. Cloud Car Accident Attorney
At Bradshaw & Bryant, we have seen firsthand the devastating physical, psychological, and financial impact that serious injuries can have on accident victims. If you were hurt in a motor-vehicle collision through no fault of your own, our team can handle the complexities of your case so you can focus your attention on the recovery process. Call our office today at 320-259-5414 or fill out our Contact Form to schedule a free case review with a St. Cloud car accident lawyer.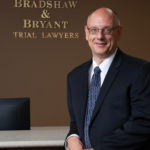 A founding partner with Bradshaw & Bryant, Mike Bryant has always fought to find justice for his clients—knowing that legal troubles, both personal injury and criminal, can be devastating for a family. Voted a Top 40 Personal Injury "Super Lawyer"  multiple years, Mr. Bryant has also been voted one of the Top 100 Minnesota  "Super Lawyers" four times.