Seeking compensation after a car accident is a lot of work. This is especially true in "no fault" states like Minnesota, where victims must meet certain requirements before they can take action against reckless or negligent parties.
Because of the hassle involved, it's wise to consider the validity of your claim before commencing the proceedings. After all, if you can't build a strong case against those you intend to name in the action, going forward may not be worth your time.
If you were recently hurt in a wreck and you're on the fence about filing a third-party claim, here are some of the biggest signs that doing so could pay off:
1. You Did Not Play a Major Role in the Crash
Following an accident, Minnesota's modified comparative fault rule bars those who are more than 50 percent to blame from recovering compensation from the other liable parties. That means if you were primarily responsible for the crash, you probably don't have grounds for legal action. You may, however, still be able to recover funds from your own auto insurer under your personal injury protection (PIP) benefits.
2. You Incurred More Than a Few Thousand Dollars in Associated Medical Bills
If you incurred at least $4,000 in reasonably necessary health care expenses, you can step outside the state's "no fault" system and file a claim with the liable party's insurer. As such, it's imperative to save all bills, receipts, and invoices the correspond to your out-of-pocket treatment costs.
3. You Were Unable to Work for at Least Two Months
If your car accident injuries kept you from returning to the office for 60 days or more, you should be able to take action against those who were to blame for the collision.
4. You Sought Treatment Promptly
Personal injury claimants must take reasonable measures to mitigate damages. This starts by visiting a doctor as soon as possible after getting hurt. If you underwent a comprehensive exam immediately following the accident, your medical records should indicate as much, bolstering your claim in the process.
5. You Have Video Footage of the Crash
Footage from dash cameras and surveillance systems is often invaluable when putting together a car accident claim. If you have any recordings of the incident, copy the files, and then save them on multiple secure platforms to ensure redundancy.
Photographs of the wreckage can also contribute to the strength of your claim. Accident reconstruction experts can usually piece together what happened by scrutinizing various details at the scene.
Speak with a St. Cloud Car Accident Attorney
Are you unsure about proceeding with a car accident claim? To see if doing so is likely worth your while, contact Bradshaw & Bryant.
We'll investigate the circumstances surrounding the crash to identify all liable parties and then help you gather the evidence needed to hold them accountable. Complete our Online Contact Form or call 320-259-5414 to set up a free, no obligation consultation with a car accident lawyer in St. Cloud.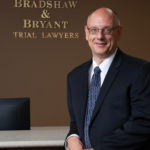 A founding partner with Bradshaw & Bryant, Mike Bryant has always fought to find justice for his clients—knowing that legal troubles, both personal injury and criminal, can be devastating for a family. Voted a Top 40 Personal Injury "Super Lawyer"  multiple years, Mr. Bryant has also been voted one of the Top 100 Minnesota  "Super Lawyers" four times.