Alcohol-impaired motorists are responsible for nearly 30 traffic fatalities every single day. That's more than one death per hour. Those who are fortunate enough to survive these accidents often sustain serious injuries. Fortunately, these victims may be entitled to both compensatory damages and punitive damages.
To build a strong personal injury or wrongful death claim, you will have to gather sufficient evidence of liability, causation, and damages. This process starts before even leaving the scene.
Let's explore some of the most important steps to take immediately following a drunk driving accident:
1. Pull Over
It's not uncommon for impaired motorists to flee the scene after causing an accident. If this happens, do not give chase; doing so is not only dangerous but could also end with you facing criminal charges. Instead, pull over to a safe place and call the police.
2. Avoid Escalating the Situation
If the drunk driver did not flee the scene, ask if he or she needs medical care. Beyond that, try to avoid interacting with the impaired motorist until police arrive.
People who are intoxicated are incredibly unpredictable and can be violent if they feel threatened. If the motorist begs you not to call the police, for example, he or she may feel inclined to fight you upon learning they're on the way.
3. Photograph the Wreckage
If you're well enough to walk around the scene, photograph the wreckage from all angles. An accident reconstruction expert may review these images to piece together what happened in the moments leading up to the crash. Be sure to capture:
• Skid marks;
• Broken glass and other debris;
• Deployed airbags;
• Bloodstains;
• Weather conditions; and
• Nearby traffic patterns.
4. Obtain Information
Police can help you gather pertinent information from the drunk driver, including his or her name, insurance policy number, and contact details. You should also make a note of each officer's name and badge number. This will make it easier to obtain a copy of the official police report—and to track any criminal proceedings that ensue following the motorist's arrest.
5. Seek Medical Care
Even if you were treated by paramedics at the scene, follow up with your primary care provider. Your doctor will perform a thorough exam to ensure you did not sustain any "hidden" injuries that have latent symptoms. If it turns out that you did, seeking immediate care could prevent medical complications from arising, and it might also help you avoid a dispute regarding a failure to mitigate damages.
Call 320-259-5414 to Discuss Your Case with a St. Cloud Car Accident Attorney
If you were struck by a drunk driver, contact Bradshaw & Bryant to determine the most strategic way to proceed. We will conduct a thorough investigation into the incident and use all the resources at our disposal to prove liability and the value of your damages. Call 320-259-5414 or fill out our Contact Form to schedule a free case evaluation with a car accident lawyer in St. Cloud.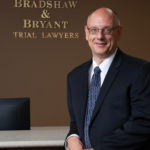 A founding partner with Bradshaw & Bryant, Mike Bryant has always fought to find justice for his clients—knowing that legal troubles, both personal injury and criminal, can be devastating for a family. Voted a Top 40 Personal Injury "Super Lawyer"  multiple years, Mr. Bryant has also been voted one of the Top 100 Minnesota  "Super Lawyers" four times.