Large truck crashes have the potential to cause catastrophic—and oftentimes fatal—injuries. Passenger-vehicle occupants are especially vulnerable in collisions with big rigs because tractor-trailers can weigh 30 times as much as cars, pickup trucks, and SUVs.
If your loved one was killed in a truck accident, taking legal action won't bring him or her back; however, it could yield the funds needed to pick up the pieces so you can continue supporting the rest of your family. To give your case the best chance of success, you will have to take these steps from day one:
1. Track Damages
In Minnesota, a successful wrongful death claim can yield compensation for:
• Medical bills;
• Funeral and burial expenses;
• Lost income, benefits, and projected inheritances;
• Loss of services, protection, care, and assistance;
• Loss of comfort, companionship, and guidance; and
• Sorrow, loss of solace, and mental anguish.
In order to recover funds for all of the above, you will have to prove that you did, in fact, incur such losses. Be sure to save relevant bills, invoices, receipts, and records.
2. Preserve Evidence
Photographs of the wreckage, dash cam footage, and statements from eyewitnesses are just a few kinds of evidence that may contribute to the strength of your claim. If you're unsure whether something might be valuable, save it anyway. When it comes to proving liability, it's better to have evidence that you don't actually need than to need evidence that you don't have.
3. Stay off Social Media
It's only natural to turn to friends and loved ones on social media in the wake of tragedy. Since the claims adjuster may be monitoring your family's online activity, though, it's best to stay off Facebook, Twitter, and Instagram for as long as the case is pending. At the end of the day, there's no way to predict how the opposing party will misinterpret—or misrepresent—what you post.
4. Save Relevant Correspondence
Save all letters, emails, texts, and voicemails that you receive from pertinent parties, including the trucker, motor carrier, and insurer. Do not respond, though; your attorney will want to handle this correspondence on your behalf.
5. Seek Legal Counsel
A seasoned attorney will conduct a thorough investigation and gather evidence that might be hard to obtain without applying legal pressure. Examples include black box data, driver's logs, and cellphone records.
Additionally, your legal team can quantify non-economic damages, negotiate with the insurer, and prevent you from making critical mistakes along the way. Should the opposing party prove uncooperative, your lawyer can help you file a lawsuit and enter litigation.
Speak with a St. Cloud Truck Accident Attorney Today
If you lost a loved one in a large truck crash, your family may be entitled to compensation for the resulting damages. To determine if you have grounds for a wrongful death claim, contact Bradshaw & Bryant.
Our compassionate team is dedicated to getting clients the results they deserve. Call 320-259-5414 or fill out our Contact Form to schedule a free case evaluation with a truck accident lawyer in St. Cloud.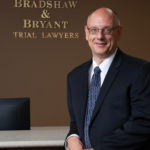 A founding partner with Bradshaw & Bryant, Mike Bryant has always fought to find justice for his clients—knowing that legal troubles, both personal injury and criminal, can be devastating for a family. Voted a Top 40 Personal Injury "Super Lawyer"  multiple years, Mr. Bryant has also been voted one of the Top 100 Minnesota  "Super Lawyers" four times.