Although car accident victims are usually entitled to compensation, they must navigate the days and weeks following the wreck with care. Even a minor misstep early in the proceedings could prove disastrous down the road.
If you were recently hurt in a collision and you intend to take action, start by following these tips, so you can pursue the maximum payout possible:
1. Treat Your Injuries
Personal injury claimants must show that they took reasonable measures to mitigate damages. This generally begins with getting prompt medical care. If you postpone treatment and end up suffering complications as a result, there's a good chance the liable party will be able to shift at least some blame your way.
2. Record Your Damages
You will have to prove that you actually incurred the damages you're seeking in the settlement negotiations. Examples include medical bills, lost income, home care, vehicle repairs, and replacement services, all of which should be accompanied by invoices, receipts, and other records.
As for proving non-economic damages like pain and suffering, start a daily journal. Within its pages, write about how your condition is hurting your overall quality of life.
3. Preserve Any Evidence You Gathered at the Scene
If you managed to photograph the wreckage or get the names and phone numbers of any eyewitnesses, make copies, and then put the original documents in a safe place until you can give them to your legal team. Evidence from the scene could end up being integral to your claim, so you want to ensure redundancy.
4. Stay off Social Media
It's not uncommon for people to seek support on social media following a traumatic event like a car accident. As long as your claim is pending, though, you should assume the insurance adjuster is monitoring your online activity.
Insurance adjusters want to protect the carrier's bottom line, and that means looking for any possible reason to deny or at least diminish the cases they review. If they can gain access to your profiles, they may try to use the posts they see to challenge your credibility.
5. Call a Personal Injury Attorney
While you don't have to hire a lawyer before commencing the proceedings, doing so is wise. You have enough to worry about without investigating the cause of the crash, corresponding with the insurance adjuster, or tracking damages. Let a resourceful professional handle every aspect of your claim while you focus on more important issues, like your health.
Speak with a St. Cloud Car Accident Lawyer
At Bradshaw & Bryant, we know just how devastating car accident injuries can be on the whole family. If you were struck by a drunk or distracted driver, we'll help you take the steps needed to see the funds you deserve.
For more than three decades, our tireless team has been representing those who were wronged by others. To schedule a free case review with a car accident attorney in St. Cloud, fill out our Contact Form or call (320) 259-5414.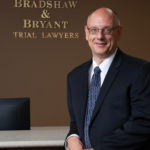 A founding partner with Bradshaw & Bryant, Mike Bryant has always fought to find justice for his clients—knowing that legal troubles, both personal injury and criminal, can be devastating for a family. Voted a Top 40 Personal Injury "Super Lawyer"  multiple years, Mr. Bryant has also been voted one of the Top 100 Minnesota  "Super Lawyers" four times.