Since legal proceedings are inherently unpredictable, there's no way to guarantee any given claim will yield a payout. If you were hurt in a car accident, though, there are steps you can take to increase your chances of recovering the compensation you deserve.
Let's take a look at some of the most effective ways to contribute to the strength of your claim:
1. Tracking All Injury-Related Expenses
Minnesota allows for the recovery of economic damages like medical bills, lost wages, and the cost of replacement services. Before you can secure funds for any such losses, though, you'll have to prove that you actually incurred them.
As such, it's essential to save all corresponding documentation. Examples include medical records, paystubs, pharmacy receipts, and invoices for domestic help.
2. Keeping a Personal Injury Journal
Minnesota also allows for the recovery of non-economic damages like pain and suffering, mental anguish, and loss of enjoyment in life. Since such losses are intangible, though, they don't have any corresponding documentation.
Thankfully, there are other ways to prove their extent. You can use statements from friends and loved ones, for example, as well as evaluations from mental health professionals. You can also use journal entries that detail the ways in which your injuries are hurting your overall quality of life.
3. Staying off Social Media
Insurance adjusters will often monitor claimants' online activity. To avoid giving them cause to challenge your case, it's best to stay off social media altogether by disabling your accounts temporarily.
If doing so is not an option, update your privacy settings so only approved connections can see what you post. You should also avoid publishing anything about the accident, your injuries, your expenditures, or your social life.
4. Following Your Doctor's Orders
Car accident claimants have an obligation to mitigate damages. Failing to seek prompt medical care—or ignoring your doctor's orders once you do—could result in additional complications for which you're deemed liable. Should this happen, the total compensation you may be able to recover will be reduced accordingly.
5. Seeking Legal Counsel
While it's possible to represent yourself during the claims process, doing so is unadvisable. You have enough to worry about without having to navigate complicated legal proceedings.
As long as you turn to a reputable firm, your attorney should be able to:
• Conduct a thorough investigation into the circumstances surrounding the accident;
• Gather the evidence needed to prove liability and damages against all responsible parties;
• Handle all correspondence with the opposing party;
• Negotiate for a fair settlement; and
• Prepare your case for court if mediation proves unsuccessful.
Discuss Your Case with a Car Accident Attorney in St. Cloud
If you were seriously hurt in an auto wreck through no fault of your own, contact Bradshaw & Bryant. Our tireless team is proud to help injured parties recover the funds they need to make their lives whole again. Call 320-259-5414 or fill out our Contact Form to schedule a free consultation with a car accident lawyer in St. Cloud.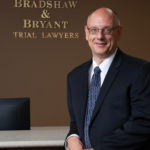 A founding partner with Bradshaw & Bryant, Mike Bryant has always fought to find justice for his clients—knowing that legal troubles, both personal injury and criminal, can be devastating for a family. Voted a Top 40 Personal Injury "Super Lawyer"  multiple years, Mr. Bryant has also been voted one of the Top 100 Minnesota  "Super Lawyers" four times.