Every successful personal injury claim is supported by lots of evidence because the victim needs to prove both liability and damages in order to secure a payout.
While evidence of liability can differ immensely from case to case, the same kinds of proof typically serve as evidence of damages across the board. Examples include bills for injury-related expenses, medical records, and testimony from various specialists, like physicians, economists, and vocational experts.
Sometimes, claimants are also advised to submit a day-in-the-life video. When they have decent production quality, these films can mean the difference between recovering a satisfactory settlement that will make do and securing every dollar the injured party deserves.
If you're wondering whether your claim could benefit from a day-in-the-life video, talk to your personal injury attorney. After evaluating the facts of the case, a knowledgeable lawyer will let you know whether filming an entire day on the road to recovery will help you demonstrate damages.
Since these films are a kind of visual aid, they're most effective when highlighting physical hurdles that can be witnessed by others. If your mobility is limited, for example, a day-in-the-life video will show viewers what it's like to struggle to complete even simple tasks. When statements and even photographs fall short, a film can convince the insurance adjuster, judge, or jury of the severity of your condition.
It's worth noting, however, that if much of the damages are psychological, a day-in-the-life video may not be as effective. While a creative attorney may have a few strategies for illustrating non-economic damages like pain and suffering, mental anguish, and loss of enjoyment in life on film, the video may not be as impactful as one that depicts physical struggles.
How Do You Create a Day-in-the-Life Video?
If your legal team thinks a day-in-the-life video could bolster your case, they can help with every aspect of the production process. While some firms prefer to hire professional videographers from day one, others don't outsource the project until it comes time to splice everything together. Still others are equipped to handle everything in-house, since these films don't demand special effects, complicated graphics, or background music.
For many claimants, the biggest challenge that comes with creating a day-in-the-life video isn't producing or editing it, since their lawyer assists with everything; it's getting comfortable with being filmed. Thankfully, you probably won't even give the camera a second thought after just an hour or two of filming.
Chances are this is when the videographer will get the most valuable footage because it will be authentic and raw. You can then use the footage to seek the maximum payout possible, making the initial discomfort well worth the effort.
Speak with a St. Cloud Personal Injury Attorney
If you were hurt at the hands of someone else and you want to seek damages, turn to Bradshaw & Bryant for attentive legal counsel. Accident victims who hire us get the experience and resource of prominent and well-respected professionals on their side. To set up your free case review with a personal injury lawyer in St. Cloud, complete our Online Contact Form or call 320-259-5414.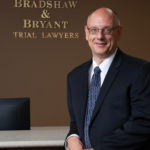 A founding partner with Bradshaw & Bryant, Mike Bryant has always fought to find justice for his clients—knowing that legal troubles, both personal injury and criminal, can be devastating for a family. Voted a Top 40 Personal Injury "Super Lawyer"  multiple years, Mr. Bryant has also been voted one of the Top 100 Minnesota  "Super Lawyers" four times.