Human errors contribute to more than 90 percent of car accidents in the United States, so when a collision occurs, it's reasonable to assume at least one of the drivers involved was responsible. In some cases, though, defective auto parts are to blame. Like any other product, a motor vehicle or one of its parts can become defective at any stage of the design, manufacturing, or shipping process.
If you were hurt in a crash that was caused by a defective auto part, you may be entitled to compensation for medical bills, lost income, and other damages; however, filing a product liability claim against a major auto manufacturer poses certain challenges. Massive corporations have the resources to dispute every claim that comes their way, so it is important that you consult a personal injury attorney who has experience handling cases like yours.
Below are the answers to three frequently asked questions about product liability claims involving defective auto parts:
Who Might Be Liable for a Car Accident Caused by a Defective Auto Part? 
There are several parties who may be liable for damages after such an accident, including:
The automobile designer or manufacturer;
An auto parts manufacturer;
The dealership or supply store that provided the defective part;
The shipping company that transported the vehicle or any of its parts;
Any other parties involved in the vehicle's chain of distribution; and
The mechanic who installed the defective part. 
If the Defective Part Did Not Cause the Accident but Contributed to My Injuries, Can I Still Sue? 
In some scenarios, a defective auto part does not cause a crash but still contributes to the severity of injuries when an accident occurs. For example, if you are involved in a collision with a drunk or distracted driver and your airbag fails to deploy, you might have grounds for a personal injury claim against both the at-fault driver and the airbag manufacturer. 
What Should I Do Following an Accident Involving a Defective Auto Part? 
Your top priority following any kind of accident should be your health. You should seek immediate medical attention, but if your injuries are not that severe, it is important that you collect evidence at the scene first. Take photos of your injuries, property damage, and the surroundings; write down the insurance and contact details of all drivers involved; and record the phone numbers of eyewitnesses. You should then visit a doctor right away.
It is important that you preserve the vehicle in its defective state. Do not schedule repairs or sell the car to a junkyard because your attorney will need it to prove liability. Your lawyer can also investigate the cause of the defect and, if necessary, bring in an auto parts specialist to provide testimony. 
Discuss Your Case with a Product Liability Lawyer in St. Cloud 
If you sustained serious injuries in a collision caused by a defective auto part, turn to Bradshaw & Bryant. We provide the personalized attention of a small firm but we have the resources of a large practice. Call 320-259-5414 or fill out our Contact Form to schedule a free case evaluation with a product liability attorney in St. Cloud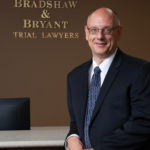 A founding partner with Bradshaw & Bryant, Mike Bryant has always fought to find justice for his clients—knowing that legal troubles, both personal injury and criminal, can be devastating for a family. Voted a Top 40 Personal Injury "Super Lawyer"  multiple years, Mr. Bryant has also been voted one of the Top 100 Minnesota  "Super Lawyers" four times.