The signs are clear that a better run U.S. Consumer Product Safety Commission is making a difference in child safety issues. Having an administration that cares about consumers is the key. Despite what has been done, there is still much to be done. In 2010, 181,500 children younger than 15 years of age were treated in U.S. hospital emergency departments due to toy-related injuries.
The safety tips to keep in mind are:
Balloons – Children can choke or suffocate on deflated or broken balloons. Keep deflated balloons away from children younger than 8 years old. Discard broken balloons at once.
Small balls and other toys with small parts – For children younger than age 3, avoid toys with small parts, which can cause choking.
Scooters and other riding toys – Riding toys, skateboards, and in-line skates go fast, and falls could be deadly. Helmets and safety gear should be worn properly at all times, and they should be sized to fit.
Magnets – For children under age 6, avoid building or play sets with small magnets. If magnets or pieces with magnets are swallowed, serious injuries and/or death can occur.
Once the gifts are open:
Immediately discard plastic wrappings or other packaging on toys before they become dangerous play things.
Keep toys appropriate for older children away from younger siblings.
Charging batteries should be supervised by adults. Chargers and adapters can pose thermal burn hazards to young children. Pay attention to instructions and warnings on battery chargers. Some chargers lack any mechanism to prevent overcharging.
If your child is injured by a toy, they need to get immediate medical care. If there are long term problems, you should contact an attorney concerning the problem. Early investigation can include the collection of the toy, checking for recall alerts, and the proper notifying of those who caused the problem.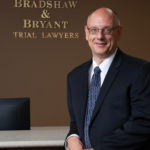 A founding partner with Bradshaw & Bryant, Mike Bryant has always fought to find justice for his clients—knowing that legal troubles, both personal injury and criminal, can be devastating for a family. Voted a Top 40 Personal Injury "Super Lawyer"  multiple years, Mr. Bryant has also been voted one of the Top 100 Minnesota  "Super Lawyers" four times.