Radiation danger from medical CT scans is much more worse than previously thought. According to two recent studies published in the Archives of Internal Medicine, the cancer caused by CT scan radiation is much worse than had been previously suspected. Numerous sources, such as the Wall Street Journal, the New York Times, USA Today, CBS Evening News, and other sources have reported these findings.
One study examined over 1000 patients at four hospitals and found:
Radiation from a single heart scan at age 40 will end up causing cancer in 1 in 270 women.
The same type scan will cause cancer in 1 of 600 men.
Doses of radiation for the same test varied wildly, even those done at the same hospital. Some patients got 13 times the radiation dose as others getting the same test.
"These are doses we should be concerned about," said Dr. Rebecca Smith-Bindman, one of the authors, "They don't have to be this high."
The other study performed by the National Cancer Institute reviewed data from several databases and concluded:
People may be exposed to up to four times as much radiation as previously estimated.
29,000 cancers might result from radiation in CT scans received in 2007, with the greatest number of cancers projected in the abdomen and pelvis.
Children are at the highest risk. A 3 year old girl female who received an abdominal scan at age 3 had a 1 in 500 chance of developing cancer because of the radiation from that scan. That figure dropped to 1 in 1,000 by age 30, and 1 in 3,333 at age 70.
http://www.youtube.com/watch?v=39huf21QQks
My next installment will detail some suggestions for protecting yourself and your family from CT radiation. Thankfully, congressional studies are now recommending more over site.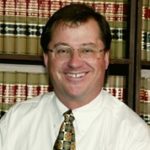 As a partner with Bradshaw & Bryant, Joe Crumley has over 30 years experience helping injured people and their families to secure just and fair compensation. Excelling in personal injury litigation, Mr. Crumley has secured numerous record-setting verdicts and settlements and won accolades such as MTLA's "Trial Lawyer of the Year" and "Excellence" Awards.