Learning by doing can be a powerful teaching tool, and for complex subjects like chemistry, the science lab can be an engaging way to get students excited about a subject. But, as a recent lab accident at Maple Grove Middle School shows, lab safety needs some attention and oversight.
On December 1st, students at Maple Grove were participating in a lab demonstration that involved the teacher igniting a small amount of methanol in what is known as a "whoosh bottle" demonstration. Unfortunately, this particular demonstration resulted in a larger-than-expected fire and four students were injured, with one of them suffering severe burns requiring him to remain hospitalized for a few days. The teacher is on paid leave while the school district is investigating.
While fortunately all of the students are expected to make a full recovery, the incident has raised some serious questions about lab safety in schools, most notably the lack of oversight and clear safety standards. For example, as the Crookston Times reported, the specific demonstration at Maple Grove is one that pops up repeatedly in the national database of lab accidents. It is also "discouraged" in the guidelines provided by the National Science Teachers Association. But those guidelines aren't binding and seem to be viewed more like suggestions.
Aside from those guidelines, that same news report highlights a lack of state oversight. There are no specific codes for science demonstrations, nor is there any state auditing to inspect and monitor what is actually happening in the science labs in terms of safety. That means the burden falls on the science teacher to make sure they know and implement lab safety practices. And with that, too, there are issues. Science teachers often do not get the training or equipment that they need in order to really make demonstrations as safe as they could be. Better and stricter guidelines about which experiments are permissible, how to conduct them, and what safety measures need to be in place could go a long ways in ensuring lab safety for both teachers and students.
The problem of lab safety is not just a local one. The Laboratory Safety Institute, a non-profit agency that tracks lab injuries, has a database that now includes over 5,000 lab safety incidents in middle school, high school, college and commercial labs.
Science labs can be a great place of discovery for students. Observing a unique experiment or participating in a hands-on activity can create those "light bulb" moments for students and get them excited about science and learning. But exciting teaching methods also need to be safe teaching methods. Let's hope that the attention that the incident at Maple Grove has brought to this issue results in some better safety practices and standards.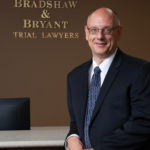 A founding partner with Bradshaw & Bryant, Mike Bryant has always fought to find justice for his clients—knowing that legal troubles, both personal injury and criminal, can be devastating for a family. Voted a Top 40 Personal Injury "Super Lawyer"  multiple years, Mr. Bryant has also been voted one of the Top 100 Minnesota  "Super Lawyers" four times.