If you are out buying a new car, listen to what the sale person points out about the safety features. Notice that the car doesn't have a gas tank in the trunk, is not designed it a way for easy rollover, and now often come with back up cameras. How much things have changed. There are bumpers that prevented hands from being crushed, stops that prevent beheadings if the door was opened with the window down and side air bags. Maybe the manufacturer made the changes out of a sense of public awareness and if so I applaud that. It is a good reason to buy that vehicle.
But, with all of the preemption attacks out there, the scares that deadly food contaminationsbring, and each day where insurance companies deny, delay and defend there is no doubt that Gerry Spence was on to something with his past speech:
"We have to redefine who we are: We are the most important people in America," Spence said. "There is no other profession in America that fights for freedom, that fights for what America is about, that fights for justice for ordinary people."
Now he did go on to say that we were more important to doctors. I'm sure many will disagree. But his point was that our society is built on justice. If we take away that bedrock, we no longer live in a free, safe and fair country. Those safety changes are there because trial lawyers stand up for those who don't have a voice. Those who fight for those that can't fight for themselves. It's what our country is founded on.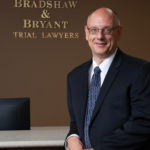 A founding partner with Bradshaw & Bryant, Mike Bryant has always fought to find justice for his clients—knowing that legal troubles, both personal injury and criminal, can be devastating for a family. Voted a Top 40 Personal Injury "Super Lawyer"  multiple years, Mr. Bryant has also been voted one of the Top 100 Minnesota  "Super Lawyers" four times.