At a recent press conference, at the Franciscan Hospital in Boston, for Children W.A.T.C.H., Inc., presented the annual nominees for its "10 Worst Toys". For over three decades, W.A.T.C.H. has identified toys defectively designed or manufactured that could lead to serious injuries or death. The list was put together with the hope to help the effort in stopping these toys from injuring children and to cut into the profit being made by these dangerous items.
The list is:
HE DARK KNIGHT BATMAN FIGURE:
According to W.A.T.C.H., Batman's mask includes two 1" ears made of pointed, rigid plastic. Toddlers may fall on them with the potential for penetrating and blunt-force injuries.
X-MEN ORIGINS SLASHIN' ACTION WOLVERINE:
According to W.A.T.C.H., it has rigid, pointed plastic claws sporting three 1 1/2" protrusions on both fists. The right "pop-out" claw retracts upon impact, whereas the left claw remains rigid and unforgiving upon contact. Incredibly, there are no warnings on either the box or the toy itself.
PUCCI PUPS MALTESE:
According to W.A.T.C.H., the pet's leash is approximately 35" long, presenting a serious potential strangulation hazard. The industry's standard limits strings on crib and playpen toys to 12" in length. The long, fiber-like hair is not adequately rooted and is easily removable, presenting a choking hazard for small children.
CURIOUS BABY CURIOUS GEORGE COUNTING MY FIRST BOOK OF NUMBERS:
According to W.A.T.C.H., the rod and beads have the potential to dislodge, posing a potentially serious risk of ingestion and choking injuries.
LOTS TO LOVE BABIES "mini nursery":
According to W.A.T.C.H., the tub, however, has a small plastic shower attachment, connected only by a thin plastic cord. Once detached, the shower head fails the industry's inadequate small parts "choke tube" standard.
CAT "rugged mini":
According to W.A.T.C.H., the vehicle's axles and wheels have the potential to separate from the chassis, exposing a solid metal spoke over 3" long, which could cause serious puncture wounds.
SPY GEAR VIPER-BLASTER:
According to W.A.T.C.H., the blaster shoots the supplied "darts" with enough force to potentially cause eye injuries.
JUST KIDZ JUNIOR MUSICAL INSTRUMENTS:
According to W.A.T.C.H., the slender, 4 1/4" drumstick is connected to the xylophone only by a knotted cord. Once separated, the drumstick could block a child's airway.
MOON BOARD POGO BOARD:
According to W.A.T.C.H., numerous "safety tips" are provided on the package, including: "Remember that the cord connecting your Moon Board to the trick handle is elastic. If stretched and released, it could spring back and cause injury"; "Only use your Moon Board in safe areas that are free of any obstacles?."; and "Do not attempt 'tricks' beyond your skill level."
DISNEY-PIXAR WALL-E FOAM ROCKET LAUNCHER:
According to W.A.T.C.H., the packaging contains inconsistent labeling, stating that the projectile toy is "FOR ALL AGES!", while also advising on the back that it is "not recommended for children under three." The rocket launches at a high rate of speed with the potential to cause serious eye injuries.
In providing the report, the American Association for Justice added their own analysis pointing out that a large majority of products—85 percent— recalled so far this year by the Consumer Product Safety Commission (CPSC) were produced in foreign countries and 57 percent were manufactured in China. Of the 354 products recalled by the CPSC, 302 were produced in foreign countries and 201 were produced in China according to CPSC's posted recall notices.
Recalled products Jan 1, 2008-Nov. 13, 2008
Total Recalled products –354
From the United States—52 or 15%
From China – 201 or 57%
From foreign countries –302 or 85%
Previous blogs have pointed out the problems that foreign manufacturers get around by not facing the prospect of being held accountable through the U.S. civil justice system, a foreign producer has little incentive to maximize product quality and safety.
If your child is injured by a toy, they need to get immediate medical care. If there are long term problems, you should contact an attorney concerning the problem. Early investigation can include the collection of the toy, checking for recall alerts, and the proper notifying of those who caused the problem.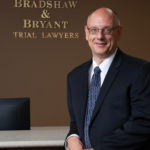 A founding partner with Bradshaw & Bryant, Mike Bryant has always fought to find justice for his clients—knowing that legal troubles, both personal injury and criminal, can be devastating for a family. Voted a Top 40 Personal Injury "Super Lawyer"  multiple years, Mr. Bryant has also been voted one of the Top 100 Minnesota  "Super Lawyers" four times.