This year has been a busy one. We thank everyone, who took the time to read any of our posts. It was especially gratifying to have so many people weight in with comments. Here s a list of our most viewed posts in 2010.
Tylenol Recall Expands To Include Motrin, Benadryl, St. Joseph Aspirin, and Rolaids, Mike Bryant | January 17, 2010 9:50 AM
Britax Recalls Blink Umbrella Strollers, Mike Bryant | February 20, 2010 9:18 AM
USDA Revokes Beef Products Inc. Beef Testing Exemption, Mike Bryant | January 10, 2010 9:52 AM
List Of Crazy Lawsuits May Teach Us Something, Mike Bryant | February 22, 2010 9:34 AM
A Johnson And Johnson Subsidiary Recalls Two Hip Replacement Devices, Mike Bryant | September 07, 2010 9:33 AM
Diet Safety: Slim-Fast Recalls All Slim-Fast RTD Products In Cans, Mike Bryant | January 05, 2010 3:40 PM
Cooking That Big Bird, Mike Bryant | November 23, 2010 9:35 AM
True Stories Of Drunk Driving , Mike Bryant | January 17, 2010 10:11 PM
December Blizzard Hitting Minnesota (Update), Mike Bryant | December 11, 2010 1:40 AM
Top Legal Web Sites, Joe Crumley | January 11, 2010 3:42 AM
————————————————————————–
(update) Brett Emison posted their top ten list, a lot of good stuff.
We hope to build off this year and post even more in 2011.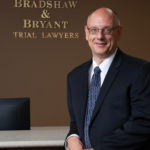 A founding partner with Bradshaw & Bryant, Mike Bryant has always fought to find justice for his clients—knowing that legal troubles, both personal injury and criminal, can be devastating for a family. Voted a Top 40 Personal Injury "Super Lawyer"  multiple years, Mr. Bryant has also been voted one of the Top 100 Minnesota  "Super Lawyers" four times.