If you sustained a brain injury because someone failed to act with reasonable care, you may be entitled to compensation for all associated damages. And when it comes to head trauma, such damages—from medical bills to lost wages to mental anguish—can add up fast.
While tort law may be on your side, however, you'll have to prove that you did, in fact, incur all such damages. This generally starts with demonstrating the extent of your injury.
Let's take a look at the kinds of evidence that could help prove the severity of your condition and, subsequently, the losses you've incurred as a result:
1. Diagnostic Images
Depending on the extent and location of the damage, some or all of it may appear on CT scans, x-ray images, brain maps, or MRIs. Should this be the case, you'll want to request copies of the images from your provider. Give them—and their associated records—to your legal team for safekeeping.
2. A Neuropsychological Assessment
Neuropsychologists have a number of ways to evaluate cognitive functioning following head trauma. During a comprehensive assessment, they might conduct a dozen or more tests to determine how the injury is affecting brain function and whether any permanent damage is likely.
3. Statements from Friends, Loved Ones, and Colleagues
Those who knew you fairly well prior to the accident can speak on any changes they witnessed in your mood, behavior, and/or demeanor after you got hurt. As such, your legal team will likely want to interview your closest friends and family members. Testimony from your coworkers could also prove helpful during the claims process.
4. Personal Injury Journal Entries
Personal injury attorneys encourage accident victims to start a daily journal as soon as possible. Detailed entries about the ways in which your injury is hurting your quality of life could prove invaluable when it comes to proving non-economic damages like pain and suffering, emotional distress, and loss of enjoyment.
5. Deposition from Your Primary Care Provider
In addition to statements from specialists like neurologists, testimony from your primary care provider may contribute to the strength of your case. This is especially true if you've been going to the same physician for years as he or she should be well-versed in your medical history.
Comparing records from before the accident to those after could be illuminating when it comes to demonstrating the extent of your brain injury. Keep in mind, however, that you shouldn't release any such records to the opposing party. Instead, give them to your legal team, so they can determine how to handle them without jeopardizing your claim.
Call 320-259-5414 for a Free Consultation with a St. Cloud Brain Injury Attorney
At Bradshaw & Bryant, we understand the devastating toll that brain injuries can take on the whole family. If you were seriously hurt through no fault of your own, we'll help you pursue the compensation needed to put your life back together. Call 320-259-5414 or use our Online Contact Form to set up a free consultation with a brain injury lawyer in St. Cloud.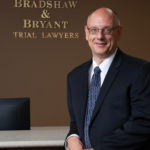 A founding partner with Bradshaw & Bryant, Mike Bryant has always fought to find justice for his clients—knowing that legal troubles, both personal injury and criminal, can be devastating for a family. Voted a Top 40 Personal Injury "Super Lawyer"  multiple years, Mr. Bryant has also been voted one of the Top 100 Minnesota  "Super Lawyers" four times.