If you were hurt on someone else's premises, the owner or occupier of that property may be liable for the resulting medical costs and other damages. Specifically, personal injury victims in Minnesota may be entitled to the following damages:
• Medical expenses;
• Lost wages;
• Loss of future earning capacity;
• Replacement services like child care, meal prep, and housekeeping;
• Other economic damages;
• Pain and suffering;
• Loss of consortium;
• Mental anguish; and
• Loss of enjoyment in life.
Even if you were in fact injured due to a property owner's negligence, there are many factors that could affect the outcome of your premises liability case. One such factor is whether your own negligence played a role in causing the accident.
Under Minnesota's modified comparative fault rule, the financial recovery in a personal injury case is reduced by the plaintiff's own percentage of liability. That means if you somehow contributed to the accident, you might not be able to obtain compensation for 100 percent of your damages.
When it comes to premises liability claims in particular, there are many scenarios in which the injured party could be deemed partially responsible. For example, if you tripped over an unmarked threshold but you were staring down at your phone at the time, the defense may argue that a reasonable person would have been paying attention and avoided the hazard.
There are also scenarios in which a plaintiff's actions following an accident can influence the final recovery. For example, if you postponed your medical evaluation or ignored your doctor's orders, the defense may assert that you have failed to mitigate your damages. If it can be shown that your own negligence has prolonged your recovery or caused your condition to worsen, you might not be able to obtain compensation for 100 percent of your damages.
If it is determined that you were 51 percent or more at-fault for the accident, you will be barred from recovering damages from the property owner or occupier.
How an Attorney Can Help
Comparative negligence is one of the most common defenses used against personal injury claims. A seasoned attorney can anticipate such a dispute before it arises and prepare to counter it. For example, your lawyer can perform an immediate investigation to obtain all evidence of liability. Your attorney can also apply the relevant statutes and case law to ensure fault is appropriately apportioned. In some cases, it may be necessary to bring in various experts to assist with the investigation and provide testimony.
Call 320-259-5414 to Speak with a Premises Liability Attorney in St. Cloud
If you sustained serious injuries on someone else's property, turn to Bradshaw & Bryant. Our resourceful attorneys have extensive experience overcoming disputes related to comparative negligence. We will aggressively fight for the full compensation you deserve.
Contact us today at 320-259-5414 or fill out our Contact Form to schedule a free consultation with a premises liability lawyer in St. Cloud. We can come to you if you are unable to come to us.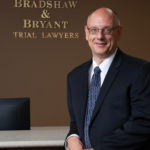 A founding partner with Bradshaw & Bryant, Mike Bryant has always fought to find justice for his clients—knowing that legal troubles, both personal injury and criminal, can be devastating for a family. Voted a Top 40 Personal Injury "Super Lawyer"  multiple years, Mr. Bryant has also been voted one of the Top 100 Minnesota  "Super Lawyers" four times.