If you were hurt in some kind of preventable accident, you may be entitled to compensation for the associated damages. If you contributed to the accident in some way, however—or to the severity of your injuries—you may only be able to seek funds for a portion of your losses.
Minnesota has a modified comparative fault rule, which states how a plaintiff's own negligence can affect the outcome of his or her claim. Let's take a look at the two scenarios in which this rule could influence your potential for recovery:
1. If You Played a Minor Role
If you played a role in the accident—or failed to mitigate damages in the aftermath—you may still be able to recover a payout as long as you're deemed less liable than the defendant; however, any resulting settlement or verdict will be reduced by your own percentage of fault.
For example, if you were struck by a drunk driver but you were speeding at the time, you might be found 15 percent responsible for the wreck. Under Minnesota's modified comparative fault rule, you would then be able to pursue no more than 85 percent of your recoverable damages.
Such damages might include:
Medical bills;
Lost wages;
Loss of future earnings;
Property repairs;
Objectively calculable losses;
Mental anguish;
Loss of enjoyment in life; and
Pain and suffering.
2. If You Played a Major Role
Under Minnesota's modified comparative fault rule, plaintiffs who are deemed more liable than the defendant are prohibited from recovering anything at all. They're also barred from recovery if they're found 50 percent at fault and there are multiple defendants, each of whom is less than 50 percent liable.
How Can I Disprove Allegations That I'm Liable for My Injuries?
When building your claim, the best way to disprove your own liability is by presenting strong evidence of the defendant's liability. As such, it's wise to enlist help from a seasoned personal injury lawyer, who will have the resources to conduct a thorough investigation.
Naturally, the strongest evidence of the defendant's fault will depend on the circumstances. If you were hurt in a car accident, for example, it might include:
The official police report;
Photographs of the wreckage;
Dash cam footage or surveillance recordings;
Statements from eyewitnesses;
Toxicology reports;
Cell phone records;
GPS data; and
Black box data.
If you were hurt in some other kind of scenario, your attorney will apply the legal pressure needed to obtain the strongest available evidence of fault.
Discuss Your Case with a Personal Injury Attorney in St. Cloud
At Bradshaw & Bryant, we understand the physical, emotional, and financial toll that accidental injuries can take on the whole family. If you were hurt primarily because someone failed to act with reasonable care, our resourceful team will help you determine the most strategic way to proceed.
From the moment you call our office to the day your case is resolved, you will be treated with the utmost compassion and professionalism. Call 320-259-5414 or fill out our Contact Form to schedule a free consultation with a personal injury lawyer in St. Cloud.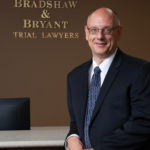 A founding partner with Bradshaw & Bryant, Mike Bryant has always fought to find justice for his clients—knowing that legal troubles, both personal injury and criminal, can be devastating for a family. Voted a Top 40 Personal Injury "Super Lawyer"  multiple years, Mr. Bryant has also been voted one of the Top 100 Minnesota  "Super Lawyers" four times.