From medical bills to lost wages, the costs of sustaining a serious injury can be exorbitant. If you were hurt while using a defective product, you may be entitled to compensation for all resulting damages, but you'll need strong evidence to prove the types of damages you've incurred and their value.
Since every product liability case is different, there's no simple formula for calculating the potential value of any given claim. Your attorney will need to perform an investigation and assess the relevant evidence to determine a fair settlement figure.
To give you a rough idea of how much your product liability case might be worth, below is a list of factors that could influence the potential value of your claim:
The severity and permanence of your injuries;
Whether you'll be able to return to work and, if so, whether you'll be able to hold the position you held prior to getting hurt;
The types of services you've had to rely on while recovering such as child care, transportation, home care, and domestic help;
Whether the liable party knowingly allowed a product with a dangerous defect to enter the consumer market despite the existence of a safer alternative; and
Whether any of your property was damaged due to the defective product.
How Will My Product Liability Attorney Prove Damages? 
For your product liability claim to result in a financial recovery, you must prove that you incurred damages as a direct result of the product defect. Your lawyer may use the following evidence to prove economic damages (objectively verifiable losses):
Hospital bills;
Pharmacy receipts;
Health insurance invoices;
Records, receipts, and invoices for all necessary services;
Income statements and/or paystubs; and
Contractor quotes for repairing property or making essential home modifications.
Naturally, proving non-economic damages like mental anguish, loss of enjoyment in life, and pain and suffering poses certain challenges because they're subjective in nature. Since such damages often make up a significant portion of personal injury settlements, though, it's important that they're included in your claim.
Your injury attorney may use the following evidence to prove non-economic damages:
Photographs of any visible injuries, scarring, or disfigurement;
Diagnostic images and other evidence to prove the extent and permanence of your injuries;
Statements from medical experts regarding your prognosis;
Journal entries detailing the recovery process and the ways in which the injuries are affecting your everyday life; and
Statements from loved ones that reveal how the injuries have been affecting the whole family. 
Discuss Your Claim with a St. Cloud Product Liability Lawyer 
If you were injured by a defective product in Minnesota and you want to file a claim, turn to Bradshaw & Bryant. We will conduct a thorough investigation into the incident and apply legal pressure as needed to gather all available evidence of liability and damages.
Call us today at 320-259-5414 or use our Contact Form to set up a free case evaluation with a product liability attorney in St. Cloud. We will come to you if you cannot come to us.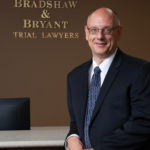 A founding partner with Bradshaw & Bryant, Mike Bryant has always fought to find justice for his clients—knowing that legal troubles, both personal injury and criminal, can be devastating for a family. Voted a Top 40 Personal Injury "Super Lawyer"  multiple years, Mr. Bryant has also been voted one of the Top 100 Minnesota  "Super Lawyers" four times.