If you were hurt in a truck accident, it's only natural to wonder how much your personal injury claim might be worth. This is especially true if you've incurred significant medical bills and lost income.
Fortunately, most reputable truck accident attorneys offer free consultations and work on a contingency fee basis. That means you won't have to pay anything unless your lawyer wins your case.
A trustworthy firm would never promise to achieve a particular outcome, no matter how strong your claim appears to be; however, your attorney can gather evidence, interview witnesses, account for all potentially recoverable damages, and take the necessary steps to pursue the highest compensation possible.
In the state of Minnesota, personal injury victims may be able to recover the following damages:
Medical Expenses: You can include all reasonable and necessary costs associated with treating your injuries in the settlement negotiations. In addition to ambulance fees and hospital bills, this may include expenses for ongoing care like physical therapy and future procedures you may need as your body heals.
Lost Income: Many truck accident victims sustain injuries so severe that they are unable to work while recovering. Fortunately, they can include lost wages in the settlement calculations. If you're unable to return to work after reaching maximum medical improvement, you may also be entitled to compensation for lost benefits and loss of earning capacity.
Other Economic Damages: Truck accident victims can pursue funds for all the expenses they incur as a direct result of the injuries they sustained. Examples include the costs associated with home care, property repairs and replacement, alternative transportation, domestic help, child care, and vehicle/home modifications.
Pain and Suffering: Pain and suffering may not be tangible, but anyone who's ever sustained serious injuries knows the psychological effects can be just as devastating as the financial costs.
Loss of Enjoyment of Life: Sustaining catastrophic injuries can make it difficult to enjoy life to the same extent that you did prior to getting hurt. Depending on the scope and severity of your injuries, you may be unable to participate in favorite pastimes or take part in old hobbies. If so, your claim can account for loss of enjoyment of life.
Punitive Damages: Although most truck accident claims do not warrant a punitive award, there are scenarios in which victims may recover punitive damages. In Minnesota, injured parties can pursue punitive damages if the liable party acted with deliberate disregard for the rights of others, intentional disregard, or knowledge that his or her actions were likely to cause injury. 
Discuss Your Case with a Truck Accident Lawyer in St. Cloud 
If you want to file a truck accident claim in Minnesota, contact Bradshaw & Bryant. For six consecutive years, Michael Bryant has been recognized as a SuperLawyer and has been ranked by Minnesota Law & Politics among the state's Top 40 Personal Injury Lawyers. Call 320-259-5414 or use our Contact Form to set up a free case evaluation with a truck accident attorney in St. Cloud.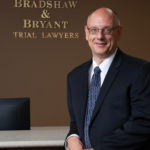 A founding partner with Bradshaw & Bryant, Mike Bryant has always fought to find justice for his clients—knowing that legal troubles, both personal injury and criminal, can be devastating for a family. Voted a Top 40 Personal Injury "Super Lawyer"  multiple years, Mr. Bryant has also been voted one of the Top 100 Minnesota  "Super Lawyers" four times.