As of August 1, 2019, drivers in Minnesota can be cited for holding a mobile device while operating a motor vehicle. There are some exceptions to the hands-free cellphone law, but under most circumstances, drivers are restricted to using voice commands or single-touch activation when performing smartphone functions.
Violating the new hands-free law may come with a fine, surcharges, and potential jail time. Drivers may also face an increase in their auto insurance premiums. Read on for a more detailed overview of the penalties you could face for violating Minnesota's hands-free cellphone law:
Penalties for Violating Minnesota's Hands-Free Cellphone Law
Breaking the hands-free law for a first time is a petty misdemeanor that carries with it a $50 base fine. With surcharges, though, the total cost will be closer to $135.
For second and subsequent offenders, the base fine will be $275. With surcharges, this penalty jumps to about $360.
School bus drivers face harsher penalties for violating the hands-free law. Such an offense is punishable by a fine of up to $1,000 and a jail sentence of up to 90 days. Additionally, a conviction will result in the immediate revocation of the violator's bus driving privileges.
Why Was the Hands-Free Cellphone Law Enacted?
The hands-free bill was signed into law to deter motorists from using their mobile devices while behind the wheel. Distracted driving claims thousands of lives—and causes many more injuries—every year.
There are three categories of driving distractions—manual, visual, and cognitive—and physically holding your smartphone to complete a function falls under all three. It demands your hands, your eyes, and your attention.
While using a phone in hands-free mode is still a cognitive distraction, it's a step in the right direction. Legislators are hopeful that the new law will reduce the number of distracted driving accidents in Minnesota and will spread awareness of this growing problem.
How Can I Prove Another Motorist Violated the Hands-Free Law?
If you are seriously injured in a distracted driving accident, you may have grounds for a third-party claim; however, you will have to prove negligence and liability in order to recover a settlement or verdict. The most valuable evidence to support your claim will depend on the circumstances but may include:
• The liable motorist's cellphone records;
• Deposition from nearby motorists, passengers, cyclists, and/or pedestrians who witnessed the collision;
• Dash cam footage or surveillance recordings of the incident;
• Content posted on the liable motorist's social media accounts just before the wreck;
• The official police report;
• Photographs of the scene; and
• Statements from accident reconstruction experts.
After proving liability, your distracted driving accident lawyer must prove the types of damages incurred and their value. Potentially recoverable damages include:
• Medical bills;
• Home and/or vehicle modifications to accommodate new disabilities;
• Home care;
• Child care;
• Lost wages;
• Loss of future earning capacity;
• Domestic help;
• Property damage;
• Alternative transportation;
• Pain and suffering;
• Mental anguish; and
• Loss of enjoyment in life.
Speak with a St. Cloud Car Accident Attorney Today
Even if you follow the new hands-free cellphone law, you cannot expect other drivers to behave responsibly. The attorneys at Bradshaw & Bryant are dedicated to helping accident victims and their loved ones pursue the compensation they need to cover medical bills, lost wages, and other damages. To schedule a free case evaluation with a car accident lawyer in St. Cloud, call 320-259-5414 or fill our out Contact Form.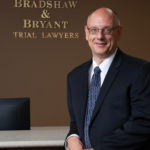 A founding partner with Bradshaw & Bryant, Mike Bryant has always fought to find justice for his clients—knowing that legal troubles, both personal injury and criminal, can be devastating for a family. Voted a Top 40 Personal Injury "Super Lawyer"  multiple years, Mr. Bryant has also been voted one of the Top 100 Minnesota  "Super Lawyers" four times.