I had an interesting exchange with one of the readers a couple of weeks back about the issue of what the leaders of the Catholic Church were saying vs the actions they were taking. I routinely talk with people who have very strong religious beliefs and are convinced that the Church has been cleaned up. The problem is that the leaders of the Church simply are proving otherwise:
– This week we have found out that the Philadelphia Archdiocese has continued to employ and protect as many as 37 priests who have been credibly accused of sexual abuse or inappropriate behavior toward minors. Pedophiles who they have not only shielded, but they have provided with the opportunity to continue to abuse. This has got to stop!!!!
Injuryboard member, Joe Saunders, has had some recent posts worth reading:
New Document Uncovered in Archdiocese of Philadelphia Priest Abuse Saga, Joe Saunders | March 13, 2011 10:32 AM
Archdiocese of Philadelphia Sex Abuse Keeps Getting Worse, Joe Saunders | March 10, 2011 12:20 PM
Zero tolerance means nothing other than ZERO. It means that those who are abused are protected even in the very close calls. It means getting rid of all vestiges of disgrace on the Church. It means taking responsibility on the side of those who are wronged.
– In the Wisconsin Archdiocese, we have now learned of a letter from Milwaukee Archbishop Timothy Dolan which suggests a greater concern about scandal and civil liability than the abuse of the victims.
The Church leaders have argued that the letter actually supports action being taken against the priest. But, the timing and the follow up does suggest that this wasn't a high priority, though fear of liability surely was.
– At the same time, there is a very important timing issue going on in Milwaukee archdiocese bankruptcy. The Anderson and Associates law office has announced:
that because the archdiocese had filed for bankruptcy protection, there will be a short time frame for survivors of abuse by priests to come forward and make their claims.

Therefore, he said, he and other lawyers representing survivors are mounting an unusual outreach campaign through television and radio ads, print ads, the Internet and social media to encourage those who may have been abused by clergy or others working for the archdiocese to come forward now.

"You can get help if you were abused, and if you come forward your name will remain private and confidential," he said.

The bankruptcy court has not yet determined the cutoff date for victims to come forward and make claims.

"A website, AbusedinWisconsin.com, also is being launched, the lawyers said.
I'm sure that there are those who will be angered at the effort. But, if this is really a zero tolerance country why aren't they working to find every last victim and to make sure that there is a clear message of justice?
Abuse of children and the continued silence by the offenders needs to be prevented. If you suffered, saw, or suspected such events, it is important to know that there is help out there.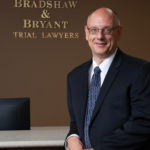 A founding partner with Bradshaw & Bryant, Mike Bryant has always fought to find justice for his clients—knowing that legal troubles, both personal injury and criminal, can be devastating for a family. Voted a Top 40 Personal Injury "Super Lawyer"  multiple years, Mr. Bryant has also been voted one of the Top 100 Minnesota  "Super Lawyers" four times.