the Minneapolis Tribune had an interesting story about the affect cities are seeing due to the increased numbers of empty houses showing up.
The house was in the bureaucratic black hole called "redemption." The homeowner had walked away from the property, and the bank that owned the mortgage said it couldn't do anything until the redemption period was over.
The individual cites are seeing increased costs as they change locks, fix windows, and evict squatters. The bill is expected to be paid at some point by the owner or as a part of the property taxes.
We see a number of potential clients each year who have injuries that take place on the properties of others. Slips and falls, trips and falls, dog bites, and other cases of simple negligence. The questions will grow as to what, if any, homeowners insurance there is on these places. Will banks that have taken the properties back be liable for injuries that bad maintenance or lack of supervision cause?
These cases can be complicated. Often, there are coverage issues which require the right attorney with the right knowledge and experience. It's a lot easier to be safe.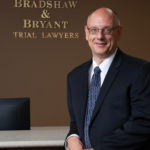 A founding partner with Bradshaw & Bryant, Mike Bryant has always fought to find justice for his clients—knowing that legal troubles, both personal injury and criminal, can be devastating for a family. Voted a Top 40 Personal Injury "Super Lawyer"  multiple years, Mr. Bryant has also been voted one of the Top 100 Minnesota  "Super Lawyers" four times.